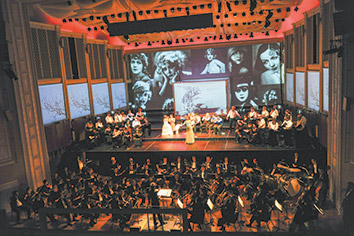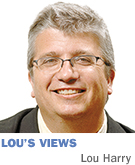 To say the Indianapolis Symphony Orchestra presentation of Georges Bizet's "Carmen" closed its season is a bit of a misnomer.
After this ambitious two-performance-only production (June 10 and 12), the ISO turned its attention to its Symphony on the Prairie season with nary a break. On paper, it might have been the end of a season, but the schedule doesn't let up in June.
Similarly, to say ComedySportz Indianapolis closed its season with the CSz World Championships is also a misnomer. The family-friendly, improvisational comedy company doesn't actually have a season and, after the championships (June 8-11), it went right back to its regularly scheduled performances at its Mass Ave home.
While their talented participants didn't get much of a break, these two events nonetheless provided chances for each of the very different arts organizations to push their limits and aim big.
ISO, for starters, could have staged its production in a much simpler way. And it's unlikely there would have been any complaints. Who would have objected to a well-played "Carmen" with a quartet of strong—if unknown to the masses—leads and a local chorus to fill out the sound? Back in 2011, the in-transition Indianapolis Opera showed that even a scaled-down "Carmen"—sans chorus, sans full orchestra, and sans full cast—packed plenty of entertainment value.
ISO had bigger things in mind, though.
It brought in Director Michal Znaniecki, who previously staged gigantic productions around the world (including a production of "L'elisir d'amore" on the water in Poland).
With an extra stage built on top of the regular one, the ISO musicians led by Krzysztof Urbanski took over the front quadrant with the singers above and behind them. The designers made maximum use of projections, silent-movie video, period-hopping costumes, and a few flexible set pieces. It was almost enough to make one forget the Hilbert Circle Theatre has minimum wing space. The first act was staged as if part of a radio broadcast, the second used silent movies as a visual device (embracing the Hilbert Circle Theatre for the movie house it once was), and the production ended as a fully staged opera.
The high-concept approach didn't always help the narrative—newcomers to "Carmen" may well have gotten a bit lost, especially early on. A low-energy Don Jose (Evan Bowers) was outmatched by his rival, Escamillo (Randal Turner), but soprano Micaela (Emma Donahue) held her own against the diva Carmen (Oksana Volkova). As one of the most-performed operas in the world, telling a clear story isn't an overriding concern.
The music sparkled throughout—"Carmen" is the closest opera comes to a familiar-to-the-masses greatest-hits package—with both the Indianapolis Symphonic Choir and the Indianapolis Children's Choir giving strong support.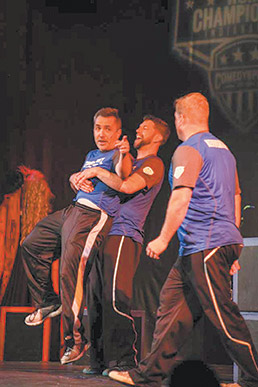 Indianapolis Comedy Sportz players, from left, Jon Colby, Rick Randjelovic and Todd Kenworthy improvised to a victory at the CSz World Championships. (Photo courtesy of Brainne Edge)
Meanwhile, ComedySportz was also welcoming out-of-town talent for what was labeled as the CSz World Championships—even though the only overseas group was from Manchester, England, and the presence of the home team in the finals was a foregone conclusion.
The June 11 finals of the multi-day tournament ended with a joyous improvisational battle between an all-star local team (Jon Colby, Rick Randjelovic, Todd Kenworthy and Claire Wilcher) and worthy opponents from Minneapolis/St. Paul.
It started out a bit rocky, with a rap game that sputtered and never really got started. But soon both teams hit a stride. They sealed the deal with a made-up-on-the-spot Disney musical where the primate sidekick (Kenworthy) ended up dominating the story—and leaving audiences singing.
It's usually a mistake to reprint punchlines from improvisational shows—that never gives a good sense of the playful, in-the-moment action. In any case, the biggest takeaway wasn't a joke but a spirit.
The sense of camaraderie—the way rival teams supported each other, often erupting with applause when a competitor found an unexpectedly hilarious take on an audience suggestion—made the audience feel, at least for a few blissful hours, to be part of a joyful, goofball tribe.•
 
Please enable JavaScript to view this content.