There's a lot of blue-collar snobbery when it comes to Chicago food. Where else but in the Windy City would you be made to feel sacrilegious for the innocuous crime of allowing ketchup and a hot dog to cohabitate?
On the other hand, Chicago pub grub also feels welcoming. Try an authentic Chicago Dog or a wet Italian beef sandwich and you can almost feel an arm around your shoulder from your new best friend, who might also buy a round of Old Style beer for the house while daring you to take a shot of Malort.
Rush on Main (112 S. Main St., Zionsville, 344-2416) sets out to re-create that Chicago pub feel a few hundred miles from the real thing. An A-frame sign out front touts the next Cubs game, and the familiar red and blue team logo along the stairs leads to a compact second-floor eat-and-drinkery where the volume is as boisterous on a busy day as you'd find in Wrigleyville.
For starters, my team shared a basket of Panko Chicken Wings ($10), with 10 panko-breaded and fried wings that offered a satisfying crunch and enough meat that excess work wasn't required to extricate it. The Chicago Dog ($6) sported the requisite sport peppers, neon relish, onions, pickle, tomato, mustard and celery salt with, as it should be, just the ends of the dog visible. If you've got all the elements and a not-too-resistant bun, it's difficult to go wrong—and Rush on Main does it right.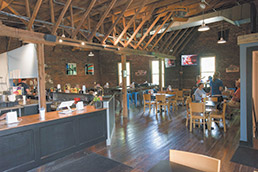 Rush on Main's second floor dining room and bar overlooks downtown Zionsville. (IBJ photo/Eric Learned)
The Chicken Sandwich ($8) didn't do anything out of the ordinary, parking lettuce, pickle, tomato and onion on a decent-size chicken patty on a Kaiser bun. But I was pleased with the reasonably priced, midsize El Burger ($7). In hindsight, it stands to reason that, if you are going to set up shop on a street that also houses The Friendly Tavern and Bub's Burgers, you'd better be able to manage a hamburger. This 7-ounce, heavily cheesed patty might not be in the big leagues with its street-mates, but it effectively delivers and I'd happily go back for another.
I would as well for Da Beef ($9), featuringmozzarella-cheese-topped, braised and sliced-in-house meat and offered with the options of mild or hot, wet or dipped. It's a two-hander (or fork-required, depending on the option you choose).
For dessert, the Cannoli Dip ($5) created more problems than it solved. Consisting of Cannoli cream in a bowl with smashed Cannoli shell, it might seem like a fun idea on paper, but in the real world, only the largest of these shell fragments can actually be used to scoop up any of the thick cream. The result: A dish that would have been better if the sum of its parts were somehow put back together.
Next week: More from Chicago, with the first local appearance of Aurelio's Pizza.•
Please enable JavaScript to view this content.