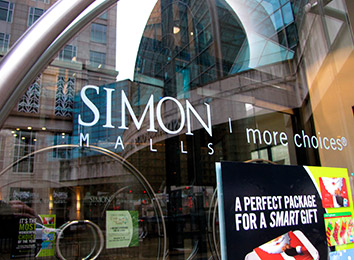 Two former guest-services managers at shopping malls in Illinois and Oklahoma have sued Indianapolis-based Simon Property Group, claiming the retail property giant violated the Fair Labor Standards Act by failing to pay overtime and comply with other federal wage and hour provisions.
The complaint filed this week in federal court in Indianapolis seeks class certification of guest services managers whose primary duties are customer service, working at guest services booths at shopping malls and selling Simon gift cards.
Named plaintiffs Jeffrey Hall and Meagin Lewis worked respectively at Simon malls in Athens, Illinois, and Oklahoma City. They claim in the suit filed by DeLaney & DeLaney LLC that Simon regularly requires guest services managers to work more than 40 hours a week without overtime compensation. The suit also accuses Simon of willfully failing to record all the time its guest services managers worked.
Simon spokesman Les Morris said the company had no comment on the suit.
Despite their job titles, the suit claims that the guest services workers were not "managers" in the legal sense that would allow Simon to exempt them from overtime pay. The guest services managers "did not exercise any meaningful degree of independent discretion with respect to the exercise of their duties, and were required to follow the policies, practices and procedures" set by Simon.
The complaint does not estimate a number of possible members of the class, which it proposes as those who have worked as Simon guest services managers anywhere in the United States. Simon owns or has a managing interest in more than 200 U.S. malls, outlet malls or retail shopping complexes.
Please enable JavaScript to view this content.