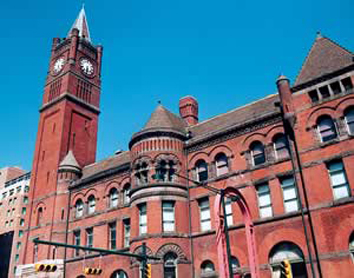 Indianapolis' historic Union Station will soon receive another round of repair work.
The city is soliciting bids for masonry, roofing, skylight and steel work at the building, which spans four downtown blocks.
The Department of Metropolitan Development estimates the project will cost in the range of $1.18 million to $2.2 million.
The work will be a continuation of a project that began in 2014, said Department of Metropolitan Development spokeswoman Madi Gregory.
At that time, the city spent $3.7 million to fix the building's most urgent needs, including work on its deteriorating south wall. Architects said then that the building could use another $3.8 million in work.
This next round of work represents a portion of those previously identified improvements, Gregory said. A third round of work will be required to complete all the projects identified from 2014, she said.
"This has been an ongoing project for many years," said Gene King, owner of Merlin King Inc., which is serving as construction manager for the work.
Project engineering will be provided by Browning Day Mullins Dierdorf Architects.
Union Station opened in 1886, designed in the Richardsonian Romanesque style by Pittsburgh architect Thomas Rodd. By 1900, the building was serving more than 200 trains a day.
The building was added to the National Register of Historic Places in 1982. In 1986, it was converted to a marketplace with a variety of restaurants, stores and nightclubs. By 1997, the last of those tenants had moved out, hurt by the opening of nearby Circle Centre mall in 1995.
Union Station's current occupants include the Crowne Plaza hotel, an Amtrak train station and Greyhound bus station.
King said the upcoming work will involve repairing Union Station's north wall and the steel beams behind it, which have been corroded by water infiltration.
Crews will also reroof a 900-linear-foot-section known as the train shed—the part of the building where trains pass through. Workers will also replace about 100 skylights.
The roof repairs should address leaks in the Greyhound passenger area. Heavy rains cause multiple leaks that drip into the bus waiting area.
"It (the repairs) should take care of it, yes," King said of the leaking.
A pre-bid conference takes place at 10 a.m. June 22, and bids are due to the city June 30.
The Department of Metropolitan Development will review the bids, and the Metropolitan Development Commission is expected to announce the winning bid at its July 20 meeting, Gregory said.
Actual work should begin at Union Station by the end of the summer, King said. The project is expected to wrap up by the end of 2017.
Please enable JavaScript to view this content.