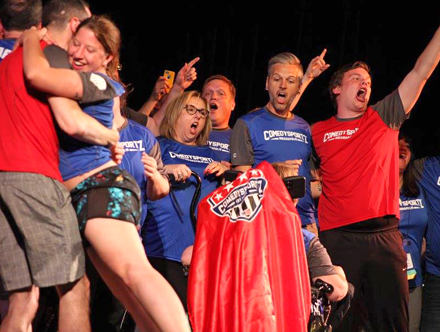 Local improvisational comedy franchise ComedySportz Indianapolis is set to undergo an ownership change.
Mia Lee Roberts and Lynn Burger have decided to sell their shares of ownership group Way Cool Productions, co-owner Ed Trout confirmed. All three were part of the group that founded the franchise in 1993. It moved in 1999 to its current location at 721 Massachusetts Ave.
"I am very happy with the decision that we have made and I'm even more excited about the future of ComedySportz Indianapolis," Roberts wrote in a Facebook post.
"Ed and Lynn are my soulmates. We have run this business together for 24 years and I'm so proud of what we have been able to accomplish. It's the right time for me. I've done everything I can to help grow the business. It's time for me to focus on my health."
Trout said personal reasons have prevented Burger and Roberts from spending the time and energy that they would like on the business in recent years.
"The business has been healthy the last couple years, and Mia and Lynn felt this is a good time for transition," he added.
Todd and Jessica Kenworthy and Rick Randjelovic will be joining Trout as co-owners. Both Todd Kenworthy and Randjelovic are ComedySportz players who perform with the group.
Trout said the ownership change, which should take place in early July,  would have little effect on operations.
ComedySportz has 23 franchises in the United States, as well as locations in Manchester, England, and Berlin, Germany.
 
Please enable JavaScript to view this content.