The Hoosier Lottery is having a banner year, thanks in part to this winter's record $1.6 billion Powerball jackpot mania and other efforts to better reach Indiana players.

The lottery is projecting that it will finish the fiscal year on June 30 with $1.2 billion in revenue—14 percent more than last year—and it is on track to return $275 million to the state.

"That's exciting," said Hoosier Lottery Executive Director Sarah Taylor. "That would be the most amount turned over to the state from the Hoosier Lottery ever."

The lottery is expecting 50 percent more revenue from Powerball sales this year and a 13 percent increase in scratch-off sales. The lottery also reached $1 billion in sales about seven weeks earlier than it did last year.

The year will also mark the first time that IGT Indiana—the company formerly called Gtech Indiana, which took over management of the lottery three years ago—will meet the goals set under its contract.

But that's largely because the goals are lower than they used to be.

The Hoosier Lottery Commission last June revamped its contract with IGT, dramatically reducing the revenue goals the company set when it bid for the state's business back in 2012. At that time, IGT also agreed to pay the state a one-time sum of $18.3 million.

Under the new terms, the company had to turn at least $270 million in net income over to the state or face a penalty. Had the state's take of lottery revenue topped $290 million, IGT would have received a financial incentive.

The original agreement between the state and private contractor set the goal for this year at $365 million.

The lottery is projected to end the year with $280 million in net income, most of which flows into the state budget.

"These last couple of years, they've had a shortfall payment to us," Taylor said. "This year, I don't think that is language that we will be discussing. This will be a banner year in that sense."

Adam VanOsdol, a senior editor of INGroup's Indiana Gaming Insight publication, said the lottery's performance in light of the Powerball surge shows the former benchmarks were "unrealistic."

Taylor
"Even though Powerball was great, they're still barely meeting their targets," VanOsdol said. "I think it was pretty obvious that the prior income targets were not very achievable."

What if there's no Powerball mania next year? IGT's general manager, Colin Hadden, said he's not worried about the company meeting its goals. He said IGT's plan to meet next year's target of turning over $291 million to the state is built on conservative estimates.

"We're seeing some real pleasing performance and momentum in many areas of the business," Hadden said. "We don't know what the jackpots will do because it's chance. We can't rely on that. Our job is to make sure all areas of the business are performing well."

The lottery is also working to release more appealing products and be more strategic about how those products are sold in stores.

"We're trying to continue engaging players," Taylor said. That includes TV commercials meant to make games come to life and making sure the lottery has a prominent point-of-sale presence in stores. There's also an effort to create games that are specifically engaging to Hoosiers.

This year, the lottery had an Indy 500-themed scratch-off that it sold on-site through a retailer near the Indianapolis Motor Speedway.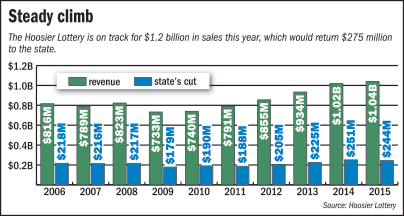 It also plans to release a Wheel of Fortune scratch-off game, which it will showcase in August at the Indiana State Fair.

"There's lots of Wheel watchers in the state and we think we'll have some fun activities for them to participate in," Taylor said.

This year's stronger performance has also meant additional money for convenience stores where lottery tickets are sold. Retailers get 6 percent of sales, said Scott Imus, executive director of the Indiana Petroleum Marketers and Convenience Store Association.

"Certainly we've seen increased sales, particularly with the Powerball record jackpot in January," Imus said.

But he said higher sales haven't had a big impact because lottery tickets are "not the most profitable" products for stores. He said selling them is challenging to manage.

"It's a big form of loss for retailers, with errors in ringing up sales or paying out winners, customers who steal tickets, employees getting bored and taking tickets thinking they can make their money back," Imus said. "But we're in the business to make life a little easier for customers, so it's a product our members carry."•