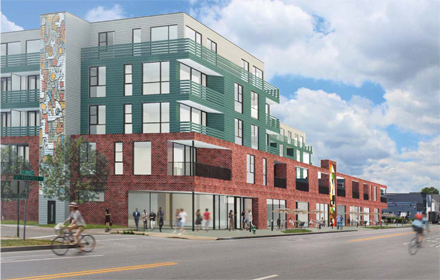 Nearly an entire city block in Fountain Square soon could be redeveloped, with five old buildings getting torn down and a new five-story project springing up with retail space and 94 apartments.
The $20 million project by Jackson Development LLC of Carmel could dramatically overhaul part of the neighborhood. It has been undergoing a slow-motion renaissance for at least 15 years—most recently bolstered by the spur of the Cultural Trail that links it to downtown.
The project will require a zoning change and several variances, but developer Carter Jackson said he has been talking for months with neighbors and community leaders.
"Fountain Square is full of life, energy and reinvestment," Carter said Friday in a phone interview. "It's a place where people are moving to live and work. It's accessible, convenient and walkable. It has a great history and a great future."
He compared his project to Slate on Virginia Avenue, a modern, rectangular mixed-use development that was designed by the same architect, Blackline Studio.
The Fountain Square project, which has yet to be named, will sit on 1.02 acres at the southwest corner of Prospect and Spruce streets. That's a few blocks east of  the neighborhood's commercial core, where Prospect intersects with Virginia Avenue and Shelby Street.
It will sit directly east of Santorini Greek Kitchen, a popular dining landmark which will remain. The restaurant's owners, Taki and Jeanette Sawi, put the adjoining property up for sale last fall.
Plans call for several old structures on six lots to be torn down, including three houses, a cinder-block garage and a single-story building that houses a Mexican grocery and used-tire shop.
According to plans filed with the city, the project includes 8,500 square feet of commercial space on the ground floor. Jackson said that could include a small restaurant or office space. It will be topped with four stories of apartments ranging from studios at 432 square feet to three-bedroom units with 2,600 square feet.
Rents will be about $1.50 a square foot per month, meaning the apartments would go for between $648 to $3,900 a month. About 10 percent of the units will be reserved as "affordable housing options."
The design calls for a modern look that incorporates some historical architectural features, such as angled doorways, he said. The first two floors will be brick. Materials have not yet been selected for the upper floors. The building will feature alcove entries, like several existing Fountain Square commercial buildings; public art; and a 15-foot wide pedestrian area.
The developer has the land under contract, subject to obtaining zoning and financing. The project will need to get approval from the city to change the zoning from C-4 commercial to mixed-use.
Jackson said he has had numerous conversations in the neighborhood, and has received positive comments. The Southeast Neighborhood Development group has submitted a letter of support to the city.
If the project gets all the approvals, Jackson expects to start construction next spring. It could take nearly two years to build, he said.
Jackson, who runs a one-man development firm, has a number of completed real estate projects under his belt, including the 126,000-square-foot Community Health Pavilion on the southwest corner of 146th Street and Cumberland Road in Noblesville.
Ted McClure, a commercial realtor who co-listed the property, said he received four offers in just a few weeks. Several of them were mixed-use proposals, and one was an entertainment project. He declined to reveal terms of the winning offer, except to say the sellers had asked $1.2 million.
The seller chose the winning proposal due to the developer's reputation, he said.
"I think it's a great project," McClure said. "If anyone could work with the neighborhood and add a strong development to the neighborhood, Carter Jackson can."
 
Please enable JavaScript to view this content.