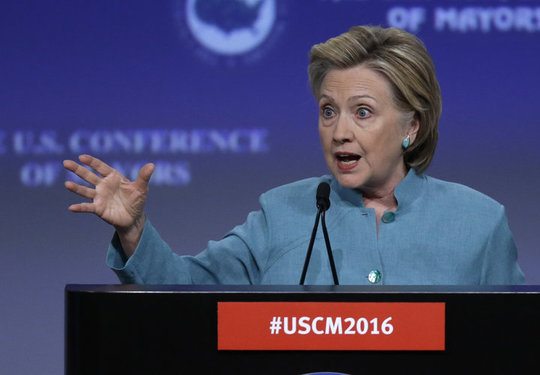 Speaking to a room full of the nation's mayors in downtown Indianapolis on Sunday, presumptive Democratic presidential nominee Hillary Clinton stressed the importance of partnerships between federal and local government.
 
Clinton was addressing the U.S. Conference of Mayors, a non-partisan group of the top elected officials from cities with a population of at least 30,000. More than 200 mayors were registered to attend the annual conference, which began Friday and wraps up Monday.
 
The former U.S. secretary of state opened her remarks by addressing Britain's historic vote to leave the European Union, a decision that threw global markets into turmoil. She said that the day after the vote, Americans lost $100 billion from their 401(k) savings accounts.
 
"It is a reminder that what happens around the world has consequences that can hit home quickly and affect our lives and our livelihoods," she said.
 
Clinton spoke for nearly 35 minutes, covering a wide range of issues, including gun reform, immigration and the economy. She said that as she sought to solve problems as president, she would reach out to local government leaders as a resource.
 
"Just like you have the backs of the people you serve, I will have your backs every day," she told the mayors. "I intend to be calling you and asking you for advice, working with you non-stop, visiting to see what you've done that works that we can bring to scale and make available for others around our country."
 
She also told the mayors that the federal government needs to be flexible when dealing with local issues.
 
"There is no one-size-fits-all solution," she said. "We need to listen and respect one another. That is why I will never plan for you, I hope we will plan with you to respond to your priorities."
 
The speech was a break from the campaign trail, where Clinton has been aggressively going after presumptive Republican presidential nominee Donald Trump. She did not mention him by name, but made a not-so-subtle reference to her opponent—saying that because mayors live among the residents they serve, they have to show results and not "respond with a snarky tweet."
 
She told the crowd of Democratic and Republican officials that it is important to put party affiliation aside to get things done.
 
"I can imagine that some of our Republican friends here today may have questions about whether you can work with a Democrat or work with me personally," Clinton said. "Now we will disagree, I disagree with some of my Democratic friends, but I think there's much more we can agree on."
 
"I know we can't get big things done unless we work together," she added.
 
All of the presidential candidates were invited to address the conference. Libertarian nominee Gary Johnson is scheduled to speak to the mayors at 11:15 a.m. Monday. Trump is not scheduled to speak.
Please enable JavaScript to view this content.