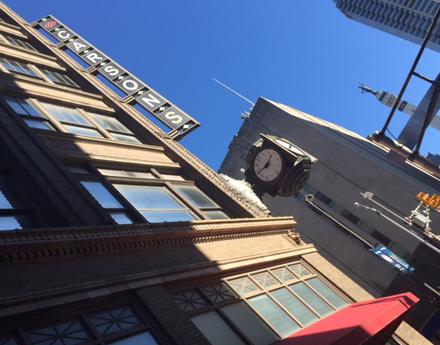 The parent company of Circle Centre mall anchor Carson's is in jeopardy of defaulting on its debt in the next year, according to Big Three credit ratings agency S&P Global Ratings, which this week downgraded the department store operator's outlook to negative.
S&P lowered Bon-Ton Stores Inc.'s corporate credit rating to CCC from CCC+ after the company's planned $45 million deal to sell three of its Midwestern department stores in a leaseback agreement was terminated.
York, Pennsylvania-based Bon-Ton operates 267 stores in 26 states, including 53 Carson's (formerly Carson Pirie Scott and Co.) stores in Indiana, Illinois and Michigan. The company operates just one store in Indianapolis, but that store is the largest tenant in Circle Centre—and considered a vital occupant for the downtown mall.
Bon-Ton's financial challenges raise a new round of uncertainty over Carson's future in Circle Centre. In late 2014, city officials and Circle Centre manager Simon Property Group struck a deal with Bon-Ton to keep the Carson's store in the mall until at least Jan. 31, 2018, by restructuring its lease to provide $300,000 in annual savings over three years.
The Carson's store's importance to Circle Centre shot up considerably in 2011 when fellow anchor Nordstrom abandoned the mall and Simon was unable to find a retail replacement.
A city report on the lease deal said losing Carson's would have a "devastating impact on the mall, surrounding properties and businesses."
Bon-Ton on June 1 agreed to sell two of its stores in Minnesota and one in Illinois for almost $45 million to United Trust Fund Partnership. United Trust would have leased the locations back to Bon-Ton for $3.9 million annually for 20 years under terms of the deal, but it called off the deal in mid-June.
Bon-Ton is carrying a heavy debt load and was planning on the leaseback deal to raise some much-needed liquidity. At the end of the first quarter, the company had $865 million in long-term debt and only $7.8 million in cash on hand.
"The downgrade reflects our revision of the company's liquidity to weak, increasing refinancing risk for an upcoming debt maturity in mid-2017, and that a default is likely within 12 months absent a meaningful turnaround in operating results," said S&P credit analyst Mathew Christy in a written statement. "Our view considers the June 20, 2016, announcement that a previously agreed upon sale-leaseback of three company-owned stores was terminated, which we believe suggests sustained industry weakness and operating performance for Bon-Ton."
Bon-Ton lost $37.8 million in its latest quarter on $608 million in revenue, compared with a loss of $34 million on $627 million in revenue in the same quarter of 2015. The company lost $57.1 million in fiscal 2015 and $6.97 million the previous year.
S&P said the company doesn't produce enough cash flow to support its operations, debt burden and refinancing needs. The report called its capital structure "unsustainable."
On Tuesday, Bon-Ton responded to S&P's downgrades and said it was working to improve its debt situation.
The company said it had about $246.4 million of borrowing capacity under its revolving credit agreement, and it expected to decrease debt by $40 million to $50 million in fiscal 2016. 
"Overall, our sales trends are in line with our plan, and we continue to believe that we are on track to meet our expectations for fiscal 2016," Bon-Ton CEO Kathryn Bufano said. "In addition, we continue to focus on maintaining adequate and sustainable liquidity levels for the business. As part of our ongoing refinancing efforts, we are working to diligently explore all appropriate options to pay down our senior notes due in 2017, and remain confident that we will be in a position to pay down this debt prior to maturity in July of 2017."
In addition to Carson's, Bon-Ton operates stores in the Northeast, Midwest and upper Great Plains under the Bon-Ton, Bergner's, Boston Store, Elder-Beerman, Herberger's and Younkers names.
Outside of Circle Centre, the nearest Carson's locations to Indianapolis are in Anderson, Kokomo, Muncie, Marion, Columbus and Richmond.
Bon-Ton shares closed at $1.36 each Tuesday, down from $2.10 at the beginning of the year.
Please enable JavaScript to view this content.