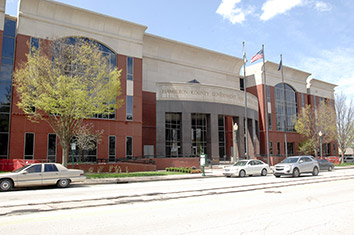 A flurry of capital projects totaling more than $100 million is proposed for Hamilton County over the next several years, but tension between the executive and fiscal bodies might delay some of them.
The Hamilton County Commissioners have a wish list of infrastructure and highway projects that includes expanding the Corrections Campus and the Judicial Center, improving State Road 37, and building a public safety training facility.
But the Hamilton County Council has yet to sign off on most of the spending, and the seven-person fiscal body keeps a tight grip on the purse strings. That has created a rocky relationship with the three commissioners, who believe the projects are necessary and the county can afford them.
The county in 2016 projects revenue of $84.3 million and expenses of $84.7 million, resulting in a $369,000 deficit. It has $60 million in cash reserves, but the council doesn't want to drain the strong reserves to complete the project list.
"We're in the hole every year, and they keep submitting stuff," council member Fred Glynn said.

Yet, the council has several of its own funding desires, including live-streaming public meetings and creating a marketing plan to assist businesses during S.R. 37 construction.

Massillamany
"The dollar amount is irrelevant for us," council member Rick McKinney said about video-streaming council meetings.
Even though it's only a $14,000 annual expense, some commissioners are skeptical.
Members of the two governing bodies—all of whom are Republicans—recently met to hash out their differences and discuss funding possibilities for proposed projects.
Most agreed the session was productive, but that doesn't mean the council won't scrutinize and possibly oppose the upcoming requests.
"Our attempt was to open the door for communication. There are some bruised egos still," council President Amy Massillamany said. "I believe that it was quite productive. There wasn't as much screaming as I thought."
The county has steadily increased its cash reserves from $38.2 million in 2011 to nearly $64 million at the end of 2015, but the balance is expected to start dipping this year, with deficits swelling to$1.3 million by 2019.
"I think that will be on everybody's mind" when the council considers funding proposals, McKinney said.
The council hopes to pay off several bonds with cash on hand in the next year and refinance some existing debt to save money in the long run. Doing so could free up cash for new projects.

McKinney
"The deficit is projected if we go with all the spending recommendations," McKinney said. "If we cut things out, then the deficit doesn't exist or we subsidize with our reserves."
Top priority for the commissioners is a $12 million expansion of the Corrections Campus, which would include adding a 20,800-square-foot housing facility for 120 additional beds, renovating the laundry area and dining hall, and expanding the kitchen by about 6,000 square feet.
"It's critically important that we move forward with this project,"Hamilton County Sheriff Mark Bowen said during the joint council-commissioners meeting June 23. "We are in crisis mode."
Bowen said capacity is 296 inmates, but, as of that morning, 327 people were in the jail. The prior week, it had more than 360 inmates.
A 20-year vision for the campus includes acquiring more property; adding even more jail housing; and expanding the sheriff's office, adult probation, support services and records building.
Massillamany said she expects the council will support the project, but some members have voiced concerns about long-term expansion plans.
"I don't want to build something or OK something for 20 years … and then sentencing guidelines are going to change," McKinney said.
The No. 2 priority for the commissioners—expanding the Judicial Center—could hit its first roadblock when the council considers a $545,000 request for a schematic design of the project at its July 6 meeting.
"That seems like an exorbitant amount of money for a schematic design," Glynn said. "Everybody I've talked to said that seems like a high fee."
McKinney agreed, saying it "seems astronomically high," and he's unsure how he'll vote.
The commissioners say the detailed design is needed to establish a more accurate cost for the project, which would add three, 35,000-square-foot stories to the west side of the building. Current cost estimates range from$22 million to $27 million.
The addition would provide space for more courtrooms and offices for the auditor, assessor, recorder and treasurer.

Dillinger
Some council members also were surprised by an updated cost estimate for the second phase of S.R. 37 upgrades.
The county had been expected to provide $4.5 million to redesign the Noblesville intersections with roundabout overpasses, but the commissioners now say it could cost $10 million.
"None of this was discussed with us upfront," Glynn said.
McKinney called the increased amount a "head scratcher."
A major sticking point between the two bodies has been the proposed public safety training facility. The council in August shot down a $3 million funding request for the project, voting 3-4.
Commissioners have started pushing for it again.
"We still feel it is an extremely important issue," Commissioner Steve Dillinger said. "We're hoping that one or two of you will change your mind."
At least three council members—Steve Schwartz, Massillamany and James Dillon, who was appointed in March to complete the term of the late Jim Belden—are expected to support the spending.
But even Massillamany admitted commissioners can't return with the same proposal.
"They're not going to approve the$3 million. They just won't," she said. "We need to come up with a solution for them to say yes."
The four dissenting votes came from Paul Ayers, Brad Beaver, Glynn and McKinney.
"Get someone to pay half the capital costs and we'll discuss it," Beaver said at the June 23 meeting.
If the funding request stays at$3 million, it won't be well-received, McKinney said.
"I look at that as either a slap in the face or they just don't get it," he said.•
Please enable JavaScript to view this content.