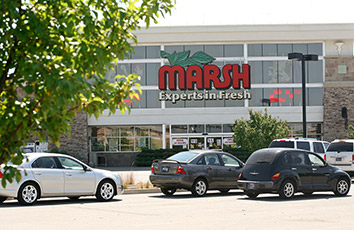 Indianapolis-based Marsh Supermarkets Inc. has signed a long-term contract that will make Minneapolis-based Supervalu Inc. the primary grocery wholesaler for its stores, the companies announced Tuesday.
Under the agreement, Supervalu will supply Marsh with general grocery products, produce, meat, seafood, frozen foods, and dairy, deli and bakery items. Also, Marsh will begin carrying Supervalu's private brand offerings, including Wild Harvest, Culinary Circle and Essential Everyday.
In addition, Supervalu said it will provide some professional services and merchandising support to Marsh, including advanced merchandise planning, retail pricing analysis and shelf-management programs.
Terms of the deal were not disclosed.
"Marsh Supermarkets is a terrific grocery chain that has served customers and communities across Indiana and Ohio for 85 years," Supervalu CEO Mark Gross said in a written statement. "This is a wonderful opportunity for us to combine both our wholesale and logistics experience with our professional service offerings to deliver a comprehensive solution for them."
Marsh's latest grocery wholesaler has been New Hampshire-based C&S Wholesale Grocers Inc. That deal was reached in 2011 by former CEO Joe Kelley, who left Marsh in 2012. He was replaced by current CEO Tom O'Boyle.
The transition of suppliers should be completed by the end of September, the companies said.
In a written statement, Marsh said the move "will provide customers with more fresh options at even lower prices."
Supervalu is known for owning Save-A-Lot and Cub Foods, but its biggest business is wholesaling. The company is the primary supplier for about 1,800 supermarkets in 40 states. The company reported $178 million in profit on $17.5 billion in sales in its latest fiscal year.
Marsh, a subsidiary of the Florida-based private equity firm Sun Capital Partners, operates 72 Marsh Supermarkets and O'Malia Food Markets in Indiana and Ohio. Marsh had estimated sales of $924 million in 2015, according to Supermarket News.
Please enable JavaScript to view this content.