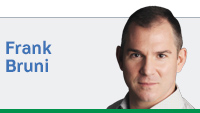 I doubt that Hillary Clinton really wants to run with Elizabeth Warren—I doubt that she fully trusts her—but if that's her calculated decision: mazel tov. They sure were fiery together last week, two blue devils raring to bedevil Donald Trump.
Tim Kaine is totally sensible, mostly safe and a bit of a snooze: the aspirin of aspirants. But if Clinton is tugged in the Virginia senator's direction, she should head there. I could certainly see him as the vice president.
Then again I've seen Julia Louis-Dreyfus in the job, in HBO's "Veep." Clinton might as well pick her for all the difference it would make.
Here's what we journalists don't like to tell you or even admit to ourselves as we furiously stir the speculation, breathlessly thicken the suspense and whet Americans' appetites for the big reveal of who will round out the Democratic and Republican tickets: Its impact on the election is close to nonexistent.
That's particularly true this time around, and especially so with Clinton.
She can veer to the left, tack to the center, go for sizzle, settle for steadiness. She has all the wiggle room in the world. Seldom in a modern presidential campaign has the selection of a running mate mattered as little as it does for her.
She has been on Americans' TV screens and in their brains for so long now that she's like email or ATMs: It's hard to remember daily life before her. Opinions of her are fixed. Emotions are ossified. Her running mate won't be some fresh lens through which voters notice new shadings and dimensions of her. There's no sudden swoon for her around the bend, no fresh disenchantment in the offing.
She has no gaping holes in her résumé to fill. "By any measure, Clinton has every credential needed to be president," said Stephanie Cutter, a Democratic political consultant who was the deputy manager of President Barack Obama's 2012 re-election effort. "So a vice president isn't going to add to that."
And there are strong signs in recent surveys that the progressives who supported Bernie Sanders are coming around to her even before they find out which partner she teams with. These polls suggest that Democratic voters are happier with her than Republican voters are with Trump; that many more Sanders supporters view her positively than negatively; and that more than three in four of them are already behind her.
So for all of the excited talk last week about Clinton and Warren, Warren probably isn't necessary for Clinton—and could be a nuisance in any Clinton White House.
"Every bit of evidence about Elizabeth Warren is that she'll go indie when she feels she needs to," said Doug Schoen, a pollster and strategist who has advised Bill Clinton and Mike Bloomberg, referring to Warren's carefully maintained identity as someone who doesn't back down. If Clinton ran with her and won, "The day that Warren says, 'I cannot support this trade deal' that Clinton has decided to endorse, the administration is over."
But the most compelling reason that Clinton can pick whom she pleases is the ineffably large, epically polarizing presence of Trump. Any wavering voters who might be lured his way will be making a decision about him—whether he's a protest vote with too high a price, whether a real leader can bloom where a peevish child still stomps and preens—and not about the appeal of Clinton's No. 2.•
__________
Brooks is a New York Times columnist. Send comments to ibjedit@ibj.com.
Please enable JavaScript to view this content.