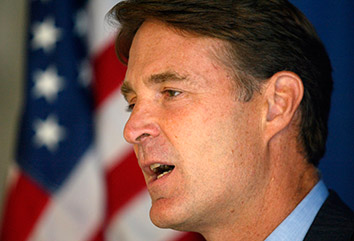 Democratic U.S. Senate candidate Baron Hill has decided to withdraw from the race, where he was planning to face Republican U.S. Rep. Todd Young in November.
CNN reported Monday morning that Evan Bayh, former U.S. senator and Indiana governor,  will seek the seat.
Hill said in a written statement Monday morning that he "filed the necessary paperwork to withdraw from the race" and he notified the Indiana Democratic Party.
The party will now "fill the vacancy with a nominee who will win in November," he said, without specifically mentioning Bayh.
"Democrats have a very real chance at winning this Senate seat, especially with a strong nominee who has the money, name identification and resources to win," Hill said. "I do not want to stand in the way of Democrats winning Indiana and the U.S. Senate. That would not be fair to my party or my state. And, the stakes are far too high in this election not to put my country above my own political ambitions."

Baron Hill
Hill struggled to gain momentum in campaign fundraising against Young, who he went up against and lost to in 2010.
Hill raised $978,610 through mid-April for this cycle. Young raised $3.7 million through mid-April.
Hill recently told media outlets that he would walk about 500 miles across the state of Indiana to "meet directly with Hoosiers" to campaign for the seat.
The circumstances of Bayh taking over Hill's candidacy mid-election is a bit odd because it's the opposite of what happened back in 2010.
Bayh, Indiana's governor from 1989-97, decided not to seek reelection to the Senate that year. Retiring U.S. Sen. Dan Coats ended up winning the seat. After leaving the Senate, Bayh joined law firm McGuireWoods in Washington, D.C.
Indiana Democratic Party Chairman John Zody said in a press release that he would start the process to fill the vacancy.
"Baron Hill is a friend and a mentor, and I am proud to know him. His service to this state has always come from the heart—he is one of the most principled people I have ever had the pleasure of knowing," Zody said. "Congressman Hill has informed me of his withdrawal from the U.S. Senate race, and as State Party Chair I will begin the process for the Democratic State Central Committee to fill the ballot vacancy in accordance with Indiana state law."
Since leaving public office, Bayh has been a senior adviser with Apollo Global Management, a Fox News contributor, an adviser for the U.S. Chamber of Commerce, and a board member for Evansville-based Berry Plastics Group. and Marathon Petroleum.
 
Please enable JavaScript to view this content.