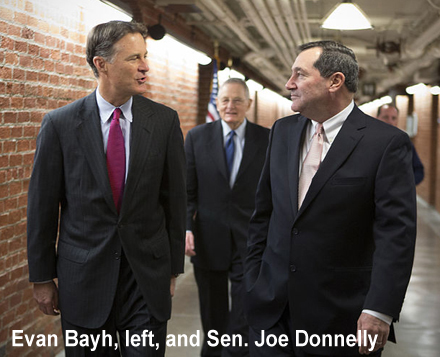 The prospect of former U.S. Sen. and Indiana Gov. Evan Bayh taking Baron Hill's spot as the Democratic nominee for Indiana's contested U.S. Senate seat sent shockwaves through state and national political circles Monday morning.
 
Democratic candidate Baron Hill announced Monday morning he decided to withdraw from the race, where he was planning to face Republican U.S. Rep. Todd Young in November. Meanwhile, CNN reported Bayh, 60, would seek the seat.
 
"This is a very positive development for Democrats in their national attempt to take the Senate back," said Kyle Kondik, managing editor of the University of Virginia Center for Politics' Crystal Ball, which tracks national races. Kondik said he was "taken aback" by the news, and that it "came out of nowhere."
 
The Indiana seat went from "likely Republican" to a toss-up Monday morning on the Crystal Ball site. Now, 47 seats lean Democrat and 47 seats lean Republican, Kondik said.
 
"Baron Hill in Indiana was pretty low on the list of their potential pickup opportunities and now it zooms up the list to the point where it might be the most likely Democratic pickup [over] Wisconsin and Illinois," Kondik said. "Indiana all of the sudden becomes a very important piece of the Democrats' plan."
 
Cook Political Report, another political site that analyzes elections, also upgraded its rating of the Indiana race from "likely Republican" to tossup.
 
"This changes the race completely," said Jennifer Duffy, senior editor for the site. "You have somebody who is universally known in the state, that I believe has pretty good favorables."
If elected, Bayh would join fellow Democat Sen. Joe Donnelly in the Senate. The last time Indiana had two Democratic senators at once was in the mid-1970s when Birch Bayh, Evan's father, and R. Vance Hartke served together.
Bayh avoided making a formal decision Monday in a statement about Hill's announcement.
"Baron Hill has always put Indiana first, and has been focused on setting aside party differences to strengthen our state and country," he said. "I share this commitment, and agree with him that the stakes have never been higher. Baron and I have spoken and we both believe that we must send leaders to Washington who will put Hoosiers' interests ahead of any one political party."
 
Young's campaign immediately came out swinging in response to the news.
 
"After he cast the deciding vote for Obamacare, Evan Bayh left Indiana families to fend for themselves so he could cash in with insurance companies and influence peddlers as a gold-plated lobbyist," said Todd Young's campaign manager, Trevor Foughty, said in an email. "This seat isn't the birthright of a wealthy lobbyist from Washington, it belongs to the people of Indiana."
Hill struggled to gain momentum in campaign fundraising against Young, who he ran against and lost to in 2010.
 
Hill raised $978,610 through mid-April for this cycle. Young raised $3.7 million through mid-April. Young put out a statement Monday morning stating that his fundraising has "ramped up" since securing the Republican nomination in May. He said he raised more than $1.34 million since the mid-April report was filed, which would bring his campaign to having raised more $5 million this cycle.
But Monday's shift might effectively make Young the underdog in a race that was once expected to be pretty much a cakewalk for him.
 
Bayh has about $10 million in campaign funds in his account, a war chest that gives him plenty of money to run circles around Young in political ad spending.
 
Plus, Washington, D.C. types shouldn't underestimate Bayh's strong "brand" in Indiana, Democratic strategist Jennifer Wagner said. A Howey Politics Indiana poll in 2013 found Bayh had a favorable rating of 60 percent.
 
"People here remember him as governor," Wagner said. "When people think of him and his name they think of him fondly. You've got someone who coming in who has an established brand and has money in the bank to run the campaign. That's very attractive."
 
Wagner said many Democrats believe the race now turns into a likely Democratic pickup.
 
But Duffy said she believes that will depend on news expected this week about whether Gov. Mike Pence will be Republican presidential candidate Donald Trump's running mate.
 
"Indiana is still a reddish state," Duffy said. "I'm interested to see what happens with Pence. That could throw a whole different wrench into the mix. Let's see what happens here before we start declaring a race over."
 
The circumstances of Bayh taking over Hill's candidacy mid-election is a bit odd because it's the opposite of what happened back in 2010.
Bayh, Indiana's governor from 1989-97, decided not to seek reelection to the Senate that year. Retiring U.S. Sen. Dan Coats ended up winning the seat. After leaving the Senate, Bayh joined law firm McGuireWoods in Washington, D.C.
Since leaving public office, Bayh has been a senior adviser with Apollo Global Management, a Fox News contributor, an adviser for the U.S. Chamber of Commerce, and a board member for Evansville-based Berry Plastics Group., Fifth Third Bancorp, Marathon Petroleum and RLJ Lodging Trust.
When Bayh decided not to run for another term in Senate in 2010, he said he'd grown tired of partisanship in politics.
"There is much too much partisanship and not enough progress; too much narrow ideology and not enough practical problem-solving," he told McClatchy Newspapers at the time. "Even at a time of enormous national challenge, the people's business is not getting done."
That view hadn't seemed to change four years later when he emphatically ruled out any future runs for office. "I have no plans to run for anything," he told Howey Politics in September 2014. "Period. End of paragraph."
Party officials, though, have been after Bayh to return to politics. Bayh was a top surrogate for Hillary Clinton during her unsuccessful run for president in 2008, and has been a major fund-raiser for her this cycle," The Associated Press reported. One Democratic official said Clinton herself had a role in convincing Bayh to get in the race.
Hill said in a written statement Monday morning that he "filed the necessary paperwork to withdraw from the race" and he notified the Indiana Democratic Party. The party will now "fill the vacancy with a nominee who will win in November," he said, without specifically mentioning Bayh.
"Democrats have a very real chance at winning this Senate seat, especially with a strong nominee who has the money, name identification and resources to win," Hill said. "I do not want to stand in the way of Democrats winning Indiana and the U.S. Senate. That would not be fair to my party or my state. And, the stakes are far too high in this election not to put my country above my own political ambitions."
 
Duffy said she believes Hill ran an unusually weak campaign.
 
"I've never seen a more lackluster campaign from somebody who knows better," Duffy said. "He behaved like a placeholder. Ironically, he ended up being just that."
Indiana Democratic Party Chairman John Zody said in a press release that he would start the process to fill the vacancy.
"Baron Hill is a friend and a mentor, and I am proud to know him. His service to this state has always come from the heart—he is one of the most principled people I have ever had the pleasure of knowing," Zody said. "Congressman Hill has informed me of his withdrawal from the U.S. Senate race, and as State Party Chair I will begin the process for the Democratic State Central Committee to fill the ballot vacancy in accordance with Indiana state law."
 
Please enable JavaScript to view this content.