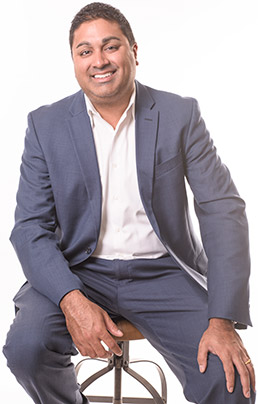 Jason Sondhi said his firm soon will announce further investment in Indianapolis. (IBJ photo/Eric Learned)
Revenue Growth FY 2013 to 2015: 457%
Across-the-board growth: The IT staffing and consulting company Sondhi Solutions earned the top ranking among this year's fastest-growing Indianapolis-area private companies by adding business to all three of its main areas: cloud-managed solutions, enterprise solutions and resource solutions.
"The overall tech boom in Indy has been good for us," owner Jason Sondhi said.
Increased workload: Sondhi said there was a month in 2015 when his company added 15 people to keep up with the demand for services.
"That's the story of what we've been dealing with from a growth standpoint."
Credits his staff: Sondhi said that, as the company grows its client base and increases its opportunities, it's also investing in its people, getting them trained in the newest technology.
"Then we're able to engage the client at a higher level because they have a better skill set," he said. "That's been a good thing for us from a loyalty standpoint because, in the tech community, good resources are in high demand. That helps our culture."
Retaining the workforce: It's always hard to find people, Sondhi said, "which is a good and bad thing for us." On the plus side, it keeps customers coming back because "they know that we can provide quality resources. But it also makes it tough for us. That's why we have a full-time staff of recruiters—because that's a constant need."
More to come: Sondhi said his company plans to continue growing. It's about to make a major announcement about further investing in Indianapolis, he said.
"We've been a Microsoft partner and we're going to start going heavily into the Salesforce space as well," he said.
In addition, Sondhi Solutions is branching out to the West Coast. The company has been able to secure application-development work there.
"We go to the West Coast and are able to bring some of that work back here," he said. "We're able to do it for a better rate."•
Check out more of IBJ's ranking of Indy's fastest-growing companies.
Please enable JavaScript to view this content.