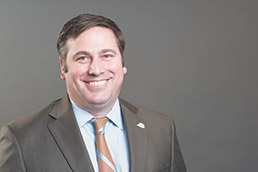 President Brad Skillman's company got a big boost from its work on the $85 million Hamilton Southeastern College and Career Academy. (photo courtesy of The Skillman Corp.)
Revenue Growth FY 2013 to 2015: 233%
Big project: Skillman Corp. credits much of its growth—and its place among the Fast 25—to its work on the $85 million Hamilton Southeastern College and Career Academy, the addition to the high school that opened in fall 2015. The project helped Skillman more than double its revenue year over year.
More schoolwork: Vice President of Marketing and Business Development Cindy Culbertson said Skillman has worked on a number of schools, including in Perry Township, in Valparaiso and in Niles, Michigan. The company handled construction management for the Indiana University Kelley School of Business building that was completed in fall 2014 and is about to finish renovations of the existing building.
"So, it will be a brand-new building come this fall," she said.
Elsewhere: Skillman also does municipal work of different kinds. It served as construction manager for the new justice center in Starke County— which included a jail, courtroom and offices—and Greenwood's new aquatic center, which opened on Memorial Day 2015.
What it does: Skillman is a construction management company, which means it's involved from the beginning of the project. It's there throughout the design process and provides estimating, constructability reviews and project management, as well as managers who are on site through the entire construction process and are responsible for everything that happens on site.
"But we don't have the people directly employed with us who put the shovels in the ground or put the framing together," Culbertson said.
Clients return: Skillman estimated that at least 90 percent of business is repeat clients.
"Skillman's philosophy is that we build relationships, not just buildings," President Brad Skillman said. "With that approach, we've been able to grow the business as our relationships have grown. For our future, I see us continuing to expand our services within our existing marketplace while continuing to pursue opportunities nationally."•
Check out more of IBJ's ranking of Indy's fastest-growing companies.
Please enable JavaScript to view this content.