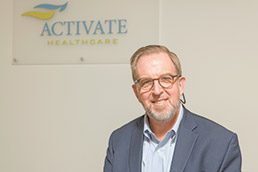 Co-founder Peter Dunn said Activate's clinics help clients cut health care costs by 10-25  percent. (IBJ photo/Eric Learned)
Revenue Growth FY 2013 to 2015: 177%
A new approach: Activate provides on- and near-site primary care medical clinics for employers to provide services to their employees and families. Activate builds a clinic—usually about 2,000 square feet—on or near the employer's site. Then it puts in place a medical team with a primary care physician, a nurse practitioner/coach or physician assistant/coach and a couple of medical assistants. The average clinic serves 2,000-3,000 members and is open 45-55 hours a week.
Costs/benefits: Clients include the city of South Bend, South Bend Community School Corp., Monroe County government, IndyGo and Monarch Beverage Co.
"The typical clinic costs 5 percent to 7 percent of an employer's total health care cost," said Peter Dunn, who formerly led Borden Foods and Steak 'n Shake. He founded the company with Debra Geihsler, former CEO of Harvard Vanguard Medical Group and Atrius Health System in Boston. "For most clients, we're reducing total health care cost 10-25 percent, including the cost of the clinic."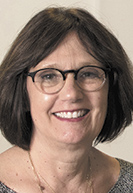 Geihsler
How it saves: The primary source of savings comes from actively managing patients and helping them become energized about managing their health, Dunn said. Three-quarters of health care costs are driven by chronic conditions, he said, and most of the conditions are preventable or manageable. When patients are engaged with a primary care physician in the prevention or management of chronic conditions, the extent to which they need expensive services like in-patient or expensive outpatient care goes down dramatically.
The challenge: Employers have to commit upfront to Activate.
"You have to agree to incur the expense of 5-7 percent of your current health care costs on top of what you're currently doing—with the understanding that it will come down in the next year or two by 10-25 percent. But you have to put the money down upfront," Dunn said.
Optimistic: Dunn said the primary reason companies partner with Activate is to reduce total health care costs.
"This is a big idea," he said. "This is the private sector transforming the delivery of health care."•
Check out more of IBJ's ranking of Indy's fastest-growing companies.
Please enable JavaScript to view this content.