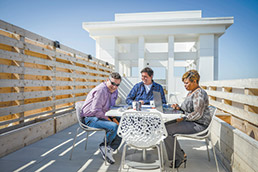 CloudOne CEO John McDonald, left, shown here with CFO Brett Sharp and Office Manager Tina Citizen,  has overseen 100 percent growth four years in a row. (Photo courtesy of CloudOne)
Revenue Growth FY 2013 to 2015: 171%
Triple-digit growth: CloudOne CEO John McDonald said his company grew 100 percent in 2015, the fourth straight year it has achieved that level of growth. McDonald said CloudOne, which manages business data using cloud applications, grew by investing time and energy in automation, upping its technology game, managing its size, and being more efficient with its personnel.
In the works: He said "some cool projects that continued to go well" also boosted CloudOne's performance. One was for a large consumer electronics company that asked CloudOne to build an application to collect data from the use of its products. The application takes that information, as well as information from social media, and gauges customers' feelings about the company's products. This allows the company to adjust its products and introduce the changes into the production stream more rapidly.
Managing growth: McDonald said that when CloudOne was a startup, "we needed to sign any business, because the point was building revenue. Now we need to be much more cautious. We want to sign good business, not just any business." He foresees a slower growth rate, "but in a good way, because it means we're going to have more profitable and more sustainable customers that we're signing."
Data collection: CloudOne works in the internet of things, the network of objects embedded with electronics that enables these objects to collect and exchange data. McDonald said he can see a day when the data that's collected from our devices will be gathered and analyzed by an internet of things middleman. The individual pieces of information on their own might not tell much, he said, but when you amalgamate them and build statistical and predictive models from them, they might be significant.
"The companies we're working with are using our infrastructure and our skills to build the functionality into their product as well as collecting the data from it. So it feels like it's a fairly short step for us to license the data that we're handling."•
Check out more of IBJ's ranking of Indy's fastest-growing companies.
Please enable JavaScript to view this content.