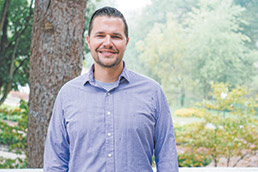 Under CEO Chris Byers, Formstack has evolved from working exclusively with small businesses to serving a broad range of customers, from sports teams to airlines. The company has more than 500,000 users worldwide. (Photo courtesy of Formstack)
Revenue Growth FY 2013 to 2015: 148%
What it does: Formstack lets clients build online forms that help them collect data—survey results, event registration, business leads—that can be used to make decisions faster. The company has more than 500,000 users all over the world. In its early days, Formstack worked almost exclusively with small businesses. Now, its clients include professional sports teams, universities and airlines.
In the beginning: Formstack grew out of a custom software-development company in 1996, back when customers needed a custom developer to get web applications built.
"We basically said, 'Building a form is tedious, so why not build a tool to make it easier to do that?'" CEO Chris Byers said. "Giving people the power to build their own forms became a really powerful tool for people."
Do-it-yourself: For a long time, Formstack didn't have salespeople. (It does now.) Instead, the company invited prospective customers to try the product.
"When you don't have a salesperson involved, it is vital that the user experience does the sales for you," Byers said. Formstack employees have served as a kind of test market for the company's products, he said.
"When we've tried to build things that we aren't naturally inclined to use, we've failed. When we build things that we would naturally use, we've succeeded."
Mobile competitors: Formstack's biggest challenge now is from companies that make forms easy to fill out on mobile devices. "While our forms operate really well in mobile, the people who are gaining ground are even more advanced than we are on the mobile end."
The future: Byers imagines a time in the not-too-distant future when, instead of filling out a form, you'll be able to use your electronic device to authorize sharing your personal information.
"We'll all be excited when we walk into the next hospital or doctor's office and authorize all the stuff that we've typed a thousand times in our lives," he said. "It'll be easier for both the user and the business themselves."•
Check out more of IBJ's ranking of Indy's fastest-growing companies.
Please enable JavaScript to view this content.