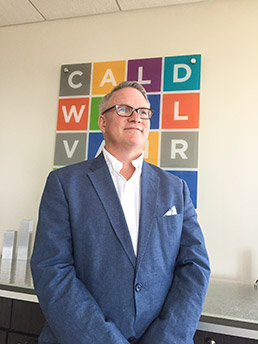 CVR President Kevin Flynn is looking for employees who grew up in the digital age. (IBJ photo/Mason King)
Revenue Growth FY 2013 to 2015: 123%
Making a change: CVR's explanation of what it does is simple: "Our job is to make you look good."
The full-service advertising/marketing/PR firm's message has attracted a number of new clients lately, including Allison Transmission, the United Way and Gleaners, which has fueled its growth. President Kevin Flynn said growth also occurred through a shift from being a traditional advertising agency that produced a lot of TV and print to being an integrated communications company where more than half of what it does is digital.
Turning 100: Six years ago, then-Caldwell VanRiper celebrated its 100th anniversary and Flynn noted that, for all the people impressed by its longevity, many didn't care.
"They cared what we'd done in the last year because marketing is changing so rapidly that the history almost doesn't matter anymore," he said.
Call it CVR: The agency redid its brand a couple of years ago, shortening its name to CVR, and began hiring employees who grew up in the digital age. Flynn said CVR also changed its approach.
"We're not curing cancer," he said. "Let's have fun and just be who we are. That's really changed how we present ourselves, how we communicate, and it seems to be working."
How it competes: CVR aligns itself with clients who are looking for a full-service agency, Flynn said.
"We can't compete against a website design house because that's all they do. But we don't just build a site. We do all the communication and branding and strategy, so you get different things when you use a full-service shop than when you use a specialist. That's how we compete."
The constant: Despite all the changes in CVR and the advertising industry, one thing remains the same, Flynn said.
"The fundamentals of telling a story haven't changed. You've got to make it emotional, you've got to keep it simple. The channels have changed, the way we communicate has changed, but ultimately storytelling is the same."•
Check out more of IBJ's ranking of Indy's fastest-growing companies.
Please enable JavaScript to view this content.