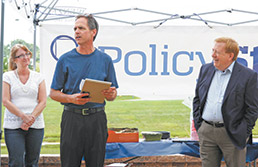 PolicyStat's Steven Erhlich and Janann McReynolds were on hand when Carmel Mayor Jim Brainard visited the company last year. (Photo courtesy of PolicyStat LLC)
Revenue Growth FY 2013 to 2015: 122%
Important work: PolicyStat President Steven Ehrlich said what his company does—policy and procedure management for medical facilities—is not glamorous, but it is vital.
"We essentially manage the playbook of policies, procedures and other reference documentation for health care. The playbook defines the care that gets delivered, it determines the licensing status for the facility, and it can make the difference in the outcome of litigation."
Growing client base: More than 1,000 facilities access PolicyStat's software every day, including 800 hospitals. In Indianapolis, all the major health systems except for Indiana University Health are customers, Ehrlich said. Ambulatory surgery centers, home health agencies, skilled nursing facilities, rehab, hospices and labs also use its product.
How he got here: Ehrlich had moved among early-stage companies since starting his career in the late 1980s and had worked with some of the people who started PolicyStat. They contacted him with an idea "that was getting a lot of traction in the marketplace," but all the people involved had full-time jobs and none of them wanted to leave. In 2007, they asked him to come in and run the company.
Other uses: Ehrlich said PolicyStat often hears from companies outside of health care that see its product and want to use it.
"Any regulated industry, any entity that gets inspected, that has to prove that they abide by the rules, would be a candidate for our software."
Plans to grow: The PolicyStat technology has proved to be adaptable.
"The beauty of our product," Ehrlich said, "is that it allows us to do that because it scales up to the largest of health systems and it scales down to the smallest community health centers. It's something that can address a very important compliance need for any facility across the health care spectrum. That's why I'm optimistic about our future."•
Check out more of IBJ's ranking of Indy's fastest-growing companies.
Please enable JavaScript to view this content.