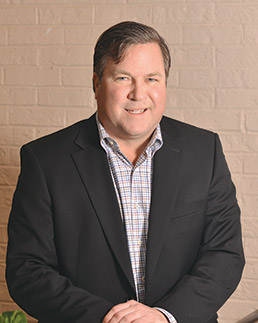 CEO Pete Bulter said MS Cos. now lands contracts worth hundreds of millions of dollars. It provides staffing and technology solutions. (IBJ file photo)
Revenue Growth FY 2013 to 2015: 87%
Simple philosophy: Pete Butler, the CEO, founder and president of MS Cos., advises: "Use technology, trust data and communicate." That, he said, has been key to his company's success—and the success of its more than 600 clients, who look to MS to provide staffing and technology solutions for their workforce.
Back on the list: Butler said MS Cos. returned to the Fast 25 in 2016 by continuing what it did last year from the standpoint of technology. MS uses its Workforce as a Service applications to lower costs and increase quality, Butler said. He cited "lots of efficiencies in a seamless technology process where all of our data is in one spot instead of all over the place in a bunch of different data centers. That's the strategy we executed and we've organically grown."
Growing sectors: MS' growth has been in the technology sector and software coding, as well as its entry into the food manufacturing sector.
"We're winning big contracts that have ceilings of hundreds of millions versus tens of millions," he said. "People are starting to understand that they have to trust data, and we have to show them what area they can trust that data. We're bringing solutions to our customers and it's providing significant cost savings plus efficiencies."
Solving problems: Among the issues clients ask MS to deal with is incorporating millennials into the workplace. The best way to attract and keep them? "Be authentic," Butler said.
Expansion: MS built a "super-regional" office in Atlanta, and started a partnership with Georgia Tech, Butler said. The company looked at acquisitions, but "the market's just so hot and we didn't want to chase anything, so we're waiting for the market to come back to us or find partners who don't have the technology and pull them into what we're doing."•
Check out more of IBJ's ranking of Indy's fastest-growing companies.
Please enable JavaScript to view this content.