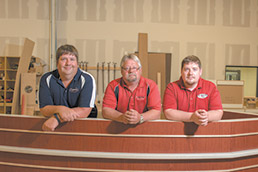 Cabinets Plus By Patrick Geer Inc. is a family business. Rick Geer, left, is general manager, while his father, Pat, is president. Rick's younger brother Stephen also works at the company, whose clients are primarily general contractors. (IBJ photo/Eric Learned)
Revenue Growth FY 2013 to 2015: 79%
A bigger home: To size up the growth of Cabinets Plus By Patrick Geer Inc., just look at the company's shop. In May 2015, it bought a new building in Anderson that took the business from just under 12,000 square feet to 40,000 square feet.
"We really upped our potential production volume," General Manager Rick Geer said, "so we're trying to capture all the ways we can do the work now."
Locally made: Cabinets Plus makes cabinets, countertops and trim work, all in Anderson. Most of its work is for general contractors—Meyer Najem Construction, also a Fast 25 company, is its biggest customer—but the business is branching into more residential work. In April, Cabinets Plus opened a 2,500-square-foot showroom.
Experienced: Geer said his father, Pat, the company president, has been in the cabinet business for 36 years and makes "a very nice quality cabinet for a reasonable price." Not the lowest price, he said, but a competitive one. And with a family-owned business—Rick's mother is secretary and he has a younger brother working there—customers are almost always dealing directly with family.
Finding workers: The challenges for Cabinets Plus include competition—six to seven other area businesses vie for the same customers—and hiring skilled cabinet makers.
"Our biggest challenge is finding enough qualified, experienced workers," Geer said. "It's not a field that's taught in schools anymore. Most schools have gotten rid of shop classes, so there's not a lot of younger people doing that."
Continuing to grow: Geer said the future of Cabinets Plus looks solid.
"Last year, we had really good growth, and in our first four months, we're on a pace to best last year," he said. "I hope we can establish ourselves as a name, a high-end name, to builders and homeowners and let that really grow."•
Check out more of IBJ's ranking of Indy's fastest-growing companies.
Please enable JavaScript to view this content.