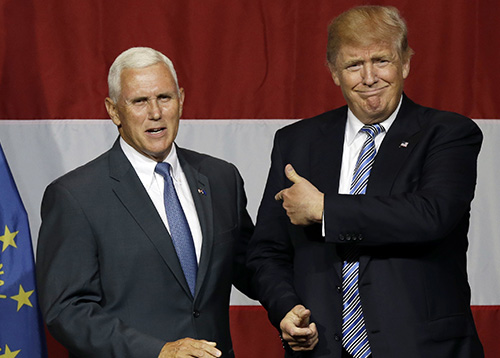 Presumptive Republican presidential nominee Donald Trump has picked Indiana Gov. Mike Pence as his running mate, Washington, D.C., political website Roll Call first reported Thursday morning.
Roll Call cited a Republican with direct knowledge of the decision. Several other media outlets including CBS News confirmed the information early in the afternoon, although there was no official confirmation from the Trump campaign.
Trump campaign chairman Paul Manafort tweeted that "a decision will be made in the near future and the announcement will be tomorrow at 11am in New York."
JUST IN: @realDonaldTrump to name @GovPenceIN as his running mate, source says https://t.co/4N4fYjU9QN pic.twitter.com/BJzvE7Kq6W

— CBS News (@CBSNews) July 14, 2016
Donald Trump's campaign signaled he will pick Mike Pence as his running mate https://t.co/VmOzZt13SX pic.twitter.com/dv4a985Q5R

— The New York Times (@nytimes) July 14, 2016
Re: @realDonaldTrump VP selection, a decision will be made in the near future and the announcement will be tomorrow at 11am in New York.

— Paul Manafort (@PaulManafort) July 14, 2016
The development follows Trump's resounding May 3 primary victory in Indiana, which essentially clinched the Republican nomination for him. That culminated this week into a maelstrom of political activity reaching central Indiana as the "veepstakes" reached a boiling point ahead of next week's Republican National Convention, where the duo is expecting to be officially christened.
Pence rallied in Westfield with Trump on Tuesday as a sort of tryout for the position. Then he met with Trump and Trump's family Wednesday at the governor's residence, but Pence said at the time that nothing was offered at that meeting.
Trump also met Wednesday with a handful of other vice presidential contenders—including former House Speaker Newt Gingrich and Alabama U.S. Sen. Jeff Sessions—at the posh Conrad Indianapolis hotel.
Pence initially endorsed U.S. Sen. Ted Cruz before the primary, but he also lavished praise on Trump. Pence later encouraged all Republicans to get behind Trump, and said at a Westfield rally that "Donald Trump knows that the boundless potential of the American people awaits and we can 'Make America Great Again."
Pence's presence on Trump's ticket doesn't appear to obviously impact Trump's chances of winning any particular states. Indiana appears to be heading toward a victory for Trump in the matchup against Democrat Hillary Clinton, at least according to the most recent polling, done in late April. Trump had comfortable 7-point and 8-point leads against Clinton in two polls taken during that time.
But it certainly would appear that he could help Trump gain the support of evangelical Christians who have been reluctant to align with Trump. Pence has long had a positive reputation with the religious right.
The news throws a wrench into Indiana's own contentious governor's race, where Pence was scheduled to take on Democrat John Gregg. Numerous Republican candidates have already expressed interest in replacing Pence on the ballot.
Five vice presidents have hailed from Indiana. That's the second most from any state, behind only New York, which has had 11 vice presidents. Most recently Dan Quayle served as President George Bush's vice president from 1989-1993.
Other Indiana vice presidents were Schuyler Colfax (with Ulysses S. Grant, 1869-1873), Thomas Hendricks (Grover Cleveland, 1885); Charles Fairbanks (Theodore Roosevelt, 1905-1909) and Thomas Marshall (Woodrow Wilson, 1913-1921). Three other Hoosiers ran as vice presidential candidates but lost.
 
Please enable JavaScript to view this content.