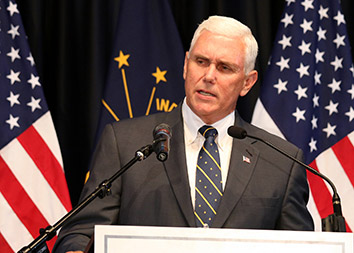 With presumptive Republican presidential nominee Donald Trump reportedly choosing Indiana Gov. Mike Pence as his running mate, the state could be in for a flurry of activity as candidates jockey to determine whether to run for what could be a cascade of open ballot positions.
The issue is not just who might run for governor. It's also about who might seek the offices held by the candidates who run for governor. And so on.
Complicating the process: A noon Friday deadline for all candidates to voluntarily withdraw from the races they're now in. Without doing so, they won't be eligible to be appointed to the ballot in any other race, said Dale Simmons, co-legal counsel for Indiana Election Division.
The Friday deadline "is going to make it really complicated for everybody," said Bill Oesterle, the former Angie's List CEO who had hoped Gov. Mitch Daniels, now the Purdue University president, would run if Pence was selected.
Daniels said Thursday morning he would not run.
"Decisions are going to be made very quickly," Oesterle said. "We're just hoping everybody's aware of that. It's going to be a mess."
CBS News and political site Roll Call reported around midday Thursday that Trump had selected Pence as his running mate, beating out a field of rivals that included Newt Gingerich and Chris Christie.
Because state law prohibits individuals from being on the ballot twice, Pence would have to withdraw from the governor's race to join the national ticket and others would have to withdraw from their races to run for governor.
But while those deadlines are in law, they might not necessarily be so rigid.
Longtime Statehouse observer Ed Feigenbaum, founder of INGroup, which publishes several public policy newsletters, said he doesn't see Friday's deadline as being as critical for Pence.
"That's a voluntary withdrawal deadline," Feigenbaum said. "The national party has until early September to certify the names on the (ticket). Pence could technically stay on the ballot until those names are certified. The way I understand federal case law in general is … the federal nomination would take precedent. I think he's got a little more time."
And that might make more time for others.
Following Pence's withdrawal, the 22-member Republican State Central Committee would have 30 days to choose who would run for governor in his place. They are also required to give 10 days notice of that caucus.
But the more time that process takes, the less time their chosen candidate has to run a full-fledged campaign against Democrat John Gregg.
 "There are going to be 22-people making the decision," Feigenbaum said. "It's not the party staff or Mike Pence or the congressional delegation."
Lt. Gov. Eric Holcomb, Indiana House Speaker Brian Bosma, and U.S. Reps. Susan Brooks and Todd Rokita are all considered likely to seek Pence's spot in the governor's race.
Oesterle said the next 24 to 48 hours will be fascinating.
Daniels would likely have cleared the field if he had jumped in the race. That's why he made clear Thursday he's out.
Regardless, other candidates will have to make decisions within hours.
Oesterle said the process is particularly stressful for sitting members of Congress and state elected officials who would like the state's top job.
Those potential replacements would have to withdraw from their current re-election bids by the noon deadline on Friday in order to be eligible to run for governor, creating more turmoil down the ballot.
"By noon Friday they're going to give up a seat in order to be considered, which is just complicated," Oesterle said. "That's just risky."
The vacancies that they would then leave on the ballot would be filled by the Republican precinct committee people in their districts. Those not chosen by the Central Committee could then be re-appointed to the ballots in their original races. But it all must happen in a 30-day window of the withdrawals.
Please enable JavaScript to view this content.