The Indianapolis Airport Authority has agreed to allow Fishers city officials to move forward with a plan to attract office and manufacturing development to 211 acres at Fishers' Indianapolis Metropolitan Airport.
"To be able to increase your commercial land base in a city is significant," Fishers Mayor Scott Fadness said Friday at a meeting of the airport authority, which owns the 445-acre Fishers airport and the Indianapolis International Airport.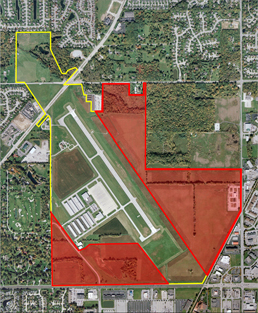 In red shading, this map shows the basic outline of the land at Indianapolis Metropolitan Airport targeted for commercial development.
Fadness said the city plans to market 211 acres for office buildings and "clean manufacturing." A map of the development plan also shows areas designated for parks, open space and a park-and-ride station.
Last fall, airport authority officials agreed to allow Fishers to create a master plan for developing airport property along 96th Street and Hague Road. On Friday, the authority approved that development plan, which will come before Fishers City Council on Monday.
The 211 acres are currently owned by the Indianapolis Airport Authority, but the land is considered excess property and is not needed by the airport.
A portion of land adjacent to Ritchey Woods Nature preserve will remain undeveloped because it's not suitable for development, Fadness said.
Opening those 211 acres to development, Fadness said, would represent a "transformative" opportunity for the city. Interest in the property is so strong that city officials plan to work with developers directly rather than hire a third party to market the property.
Indianapolis Airport Authority board member Steven Dillinger, who owns S.C. Dillinger & Associates Insurance Agency in Hamilton County, called the development plan "an economic grand slam for Fishers and Hamilton County." Dillinger also is a Hamilton County Commissioner.
Now that airport officials have approved the plan, it goes to Fishers officials for approval. Fishers City Council is set to vote on the plan Monday.
Indianapolis Metropolitan Airport has a single runway of 3,850 feet. An average of 151 takeoffs and landings occur daily, and more than 150 aircraft are based there. It is one of four reliever airports for Indianapolis International.
Please enable JavaScript to view this content.