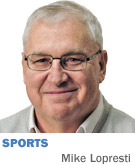 And now, just to remind us that summer is fleeting, the Colts open training camp July 26. One step closer to scraping your windshield in the morning.

Perhaps you've seen the official 2016 schedule. But here is the unofficial schedule, with dot-dot-dot additions that may or may not be true, but should be.

July 26: Colts players report at Anderson University for seventh consecutive year ...

At team dinner that night, players will sign a Get Well Soon card for the Anderson football program, which is 8-52 in the past six years of Colts training camps.

July 27: Colts City opens for fans attending camp ...

Big discount at the team merchandise shop on Bjoern Werner jerseys.

Aug. 6: Tony Dungy is inducted into the Pro Football Hall of Fame in Canton, Ohio ...

Theme of his speech: "Coaching the Colts was such a good gig, I could retire at 53."

Aug. 7: Colts open preseason schedule against Green Bay in the Hall of Fame game ... Jim Irsay's message to team: "Guys, I know exhibition results don't mean squat, but we've had one winning pre-season record in 15 years. Geez."

Aug. 11: Anderson camp closes ...

Parting gifts for any fans who have learned the names of at least half of the 11 new assistant coaches and can prove it.

Sept. 11: Opening Sunday in NFL regular season. As Colts host Detroit and old coach Jim Caldwell, Tom Brady begins his suspension for New England, having decided the Supreme Court has better things to do ...

First 30,000 fans to Colts game get a T-shirt that says "Deflategate Started With Us."

Sept. 18: Indianapolis at Denver, otherwise known in TV promos as Andrew Luck vs. Von Miller ...

Short pregame ceremony will recognize the momentous occasion that this is the first time in NFL history a $140 million quarterback will be passing against a $114 million linebacker.

Sept. 25: San Diego at Indianapolis ...

"Philip Rivers is a Pain" buttons for every fan at Lucas Oil Stadium, commemorating the Colts 1-6 record against the Chargers their past seven meetings.

Oct. 2: Indianapolis vs. Jacksonville in London ...

Game is billed as Breakfast at Wembley. With a 9:30 a.m. kickoff, if the Colts continue a bad habit of slow starts, they'll be down 10-0 before church is out.

Oct. 9: Chicago at Indianapolis ...

It's Jet Lag Day at Lucas Oil Stadium. Most everyone gets a bye after London trips, but not the Colts.

Oct. 16: Indianapolis at Houston ...

A fine day for the Texans to hoist their 2015 AFC South championship banner.

Oct. 23: Indianapolis at Tennessee ...

It's the Matt Hasselbeck Bowl, since these are the last two teams he played for. How much have the Colts missed him? Well, how are Luck's ribs? Back? Shoulder?

Oct. 30: Kansas City at Indianapolis ...

To revive the memory of the Chiefs' last visit here—the unforgettable playoff rally of 2014—the Colts agree to start the game behind 38-10.

Nov. 6: Indianapolis at Green Bay ...

Colts will hold a drawing for two tickets this week for any fan who was born the last time they won in Lambeau Field—1988. Andrew Luck is among those who are ineligible.

Nov. 20: Tennessee at Indianapolis ...

Halftime ceremony honors the 10-year reunion of the Super Bowl XLI winners, who among other things, came from 21-3 back to beat New England 38-34 in the AFC Championship game. Included will be a congratulatory message played on the scoreboard from Bill Belichick, who has decided to let bygones be bygones.

Nov. 24: Pittsburgh at Indianapolis ...

Local fans wrestle with two worries on Thanksgiving night: The Colts' lousy record lately against the Steelers, and how to stay awake for an 8:30 p.m. game after eating a pound of turkey and three slices of pie.

Dec. 5: Indianapolis at New York Jets ...

Colts equipment personnel view this as the one opportunity to break out the parkas, since it is the only outdoor game in a cold-weather city in the last eight weeks of the season.

Dec. 11: Houston at Indianapolis ...

This being the last home game before Adam Vinatieri's 44th birthday, all grandfathers in the crowd younger than he are asked to stand.

Dec. 18: Indianapolis at Minnesota ...

With the wind chill dropping outside on a Minneapolis winter morning, Colts take a moment during their pregame meeting to give thanks for indoor stadiums.

Dec. 24: Indianapolis at Oakland ...

Colts hear it from the infamous Black Hole Raiders' fan section. The message ain't exactly Merry Christmas.

Jan. 1: Jacksonville at Indianapolis ...

Bill Polian goes up on the Ring of Honor. Bets now being taken on how many guys he drafted or traded for who will eventually be there with him.

Jan. 2: Colts face the playoffs. Or one ticked-off owner.•

__________

Lopresti is a lifelong resident of Richmond and a graduate of Ball State University. He was a columnist for USA Today and Gannett newspapers for 31 years; he covered 34 Final Fours, 30 Super Bowls, 32 World Series and 16 Olympics. His column appears weekly. He can be reached at mlopresti@ibj.com.