The American Legislative Exchange Council is coming to Indianapolis on July 27 for its annual meeting, an event expected to bring at least 1,500 state legislators and business leaders together to come up with conservative ideas for new state laws.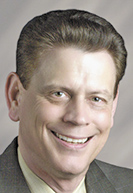 Frizzell
But the controversial group also has ginned up plenty of opposition, and critics plan to protest the event as well as the group's influence in state legislatures in Indiana and across the country.
At issue is whether ALEC provides corporations with easy access to powerful lawmakers—access that can't be tracked and reported in the same way that traditional lobbying and campaign finance information can be scrutinized.
Supporters of ALEC say no. State Rep. David Frizzell, R-Indianapolis, is a state co-chair of the group and said it's about ideas, not influence. He said its goals "have always been free enterprise, capitalism and individual freedom."
"That's our major objective," he said. "We create model legislation for those ideals."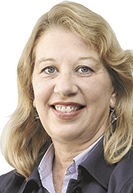 Vaughn
But opponents say the group's funders—which have included Koch Industries, ExxonMobil, and a number of right-leaning foundations and industry groups—and the corporate leaders who serve on its private enterprise board are after more than just support for conservative principles.
"Our big objection with this group is that they're a lobbying group masquerading as a charity," said Julia Vaughn, executive director of Common Cause Indiana.
"They're extremely involved in the legislative process in Indiana, and it's outrageous that the law doesn't require them to be forthcoming about what they spend on and the time they spend with our state Legislature," Vaughn said. "They have the same tax status as the local animal shelter or the local food pantry."
The group's annual meeting will be July 27 through July 29 at the JW Marriott downtown. Across the street on the opening day, a group that includes open government advocates, public education supporters and other critics will protest from 3:30 p.m. to 5:30 p.m. on the Indiana State Museum lawn.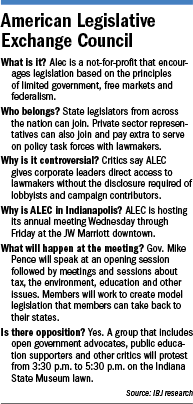 The ALEC agenda includes sessions and meetings about tax and fiscal policy, communications and technology, labor and business regulations, education and workforce development, and energy and the environment. Among the session titles are "How to stop bureaucrats from targeting and harassing people based on their personal beliefs" and "Bursting the bubble: beverage taxes hurt more than help."
The conservative Club for Growth—a group that promotes limited government and free markets and donates to candidates who support those ideals—will host a reception and a hospitality suite throughout the conference. And Indiana Gov. Mike Pence—now the Republican candidate for vice president—will speak at the group's opening session.
One goal of the event is to develop model legislation in several areas that legislators can take back to their states to introduce. One notable issue the group plans to work on is a regulatory framework for online lodging sites such as Airbnb.
Frizzell said Indiana lawmakers also will be interested in getting legislative ideas for "anything that deals with taxation—anything that would improve the economy of the state."
Over the years, some contentious legislation in Indiana is thought to have originated from ALEC, namely education reform policies and the right-to-work law, Vaughn said.
Joel Hand, a public education advocate and lobbyist, said Indiana's school voucher bill is "right out of the ALEC handbook."
"Further driving taxpayer funds away from the children in our public schools is diametrically opposed to what our organization wants," said Hand, who represents the Indiana Coalition for Public Education. "Public schools are the bedrock of democracy. ALEC clearly doesn't share that feeling."
ALEC also has been credited with the passage of stand-your-ground laws that allow people to defend themselves with lethal force when they feel threatened—statutes that became controversial after George Zimmerman shot Treyvon Martin in Florida. Police said they didn't initially arrest Zimmerman because of the state's stand-your-ground law. After that incident, The Guardian newspaper published leaked documents showing ALEC's legislative membership had dropped significantly. In addition, a number of companies also announced they would no longer sponsor or support the group.
Still, according to the left-leaning Center for Media and Democracy, sponsors for ALEC's annual meeting in 2015 included Duke Energy, AT&T, Altria, Reynolds American, Time Warner Cable, ExxonMobil and others.
ALEC staff didn't respond to IBJ's request for comment about the Indianapolis conference and its activities.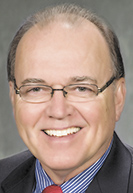 Buck
But Republican state Sen. Jim Buck, the group's first vice chairman, insists ALEC is not simply an echo chamber where conservatives influence other conservatives. He said conference attendees hear from multiple sides of controversial issues and leave "holistically educated" on key topics.
ALEC has many more Republican members than Democratic members. But Democrats have also joined the group. For instance, Democratic gubernatorial candidate John Gregg used to be a member.
The Indiana House speaker's office said seven Republican members plan to attend the conference: Reps. Woody Burton of Whiteland, Curt Nisly of Goshen, Bob Heaton of Terre Haute, Heath VanNatter of Kokomo, Tim Wesco of Osceola, David Wolkins of Winona Lake, and Dale DeVon of Granger. Wolkins is another co-chair.
The Senate Republican caucus did not respond to IBJ's request about which senators will be attending.
Frizzell said that 10 to 12 Indiana lawmakers "religiously attend" the conference each year. He said he hopes there will be more this year amid political excitement in conservative circles about Pence and because the meeting will be in the state capital.
House Rep. Bob Behning, R-Indianapolis, for example, said he hasn't attended the conference in several years but that he "may attend a couple of breakout sessions" this year.
Vaughn worries that with the group's national conference in Indianapolis, ALEC could have a bigger influence on state lawmakers than usual.
"It's going to be very easy for our legislators to attend, be privy to all this wining and dining and relationship-building and influence-peddling that is the norm at these kinds of meetings," Vaughn said.
But Frizzell rebuffed the group's critics.
"The opposition says that we're trying to force [legislation] on the states. But it's up to the states" if they want to adopt a proposal, he said. "We're a repository of ideas."•
Please enable JavaScript to view this content.