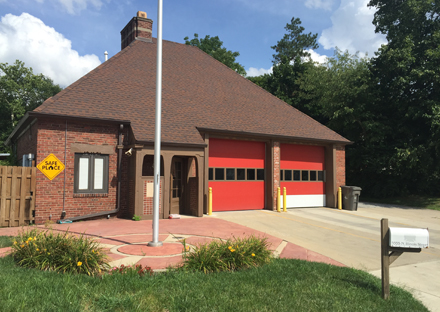 Butler-Tarkington residents who unsuccessfully fought to keep their fire station open in a highly traveled area of the neighborhood now will wait to see how the empty building gets redeveloped.
Fire station No. 16 at 56th and Illinois streets on the north side closed this month as part of a department-wide redeployment plan, which recommended the Butler-Tarkington location consolidate with station No. 32 on Guilford Avenue in Broad Ripple.
Now that the firefighters are gone, city officials plan to engage the neighborhood and gather input on best uses for the historic building before accepting proposals from developers.
Jeff Bennett, the city's deputy mayor of community development, expects the building to attract a lot of interest.
"It's a hot area," he said, "and it's a cool building."
It's so hot that Michael McKillip, executive director of not-for-profit Midtown Indianapolis Inc., already is fielding calls from interested restaurateurs, brewpub owners and developers inquiring about how the city expects to proceed with a sale.
"There's wide interest in commercial real estate at that intersection," he said. "Folks are anxious to understand what opportunities exist at that site."
Station No. 16, at 5555 N. Illinois St., opened in 1932 and once needed to have its overhead doors enlarged to accommodate newer and larger fire engines, according to the Indianapolis Fire Department's website.
The station, however, was one of IFD's quietest locations—averaging just three runs per day—and ultimately making it expendable under the department's reorganization plan.
Still, Butler-Tarkington residents fought hard to keep it and sent a petition with hundreds of signatures to Mayor Joe Hogsett.
"We've been pretty public about keeping it as a fire station, and we're sad to see it go," said Clark Kirkman, president of the Butler-Tarkington Neighborhood Association.
Now that it's gone, Kirkman accepts that a restaurant might be the best reuse for the space. But any repurposing of the station first will need the blessing of the Meridian Street Preservation Commission before a prospective owner can seek to rezone the property.
That's because the site falls within the secondary zone of the commission's preservation district along Meridian Street. Passed by the state legislature in 1971, the Meridian Street Preservation Act requires any owner in the preservation area secure the approval of the commission when pursuing a variance or rezoning.
The station is zoned single-family residential because of the surrounding neighborhood and was grandfathered into current zoning codes.
"After talking with neighbors, it's pretty clear that the community is willing to accept that residential may not be the best use of this site," McKillip said. "It feels like it's definitely part of a commercial district now."
Illinois Street Food Emporium and Graeter's Ice Cream sit across Illinois Street from the fire station. Directly to the north is 21st Amendment Wine and Spirits, and then an entire block of retail, including a Starbucks coffee shop.
The Butler-Tarkington Neighborhood Association next meets on Aug. 8, at 6:30 p.m. at the MLK Community Center. City officials might attend to discuss the future of the fire station.
Please enable JavaScript to view this content.