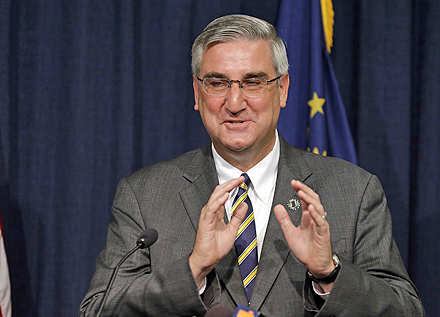 Indiana Lt. Gov. Eric Holcomb has been chosen as the Republican nominee to run against Democrat John Gregg in this November's gubernatorial election.
State Republicans selected Holcomb to replace Gov. Mike Pence on the ballot during a meeting that started Tuesday morning and stretched into the afternoon.
A 22-member Indiana Republican Party committee voted in private to choose Holcomb, who was vying for the spot against U.S. Reps. Susan Brooks and Todd Rokita, along with state Sen. Jim Tomes of Evansville.
"We've got work to do and a short time to get there," Holcomb said in a press conference after the private vote. He said he was "honored and gratified by the expression of support."
Holcomb said he would soon seek a lieutenant governor candidate. Both Brooks and Rokita said they were interested in returning back to their seats in Congress when asked about taking the No. 2 spot on the ballot.
Republican Party Jeff Cardwell refused to release the vote totals. The committee seemed to be pretty evenly split between Holcomb and Brooks. Former Republican State Rep. Mitch Harper tweeted at one point that the voting went to a second ballot, meaning no one got the majority on the first vote. The new nominee was required to earn 12 votes.
The choice followed a flurry of behind-the-scenes lobbying that took place after Pence was selected nearly two weeks ago by Donald Trump as his vice presidential pick.
"I feel confident Eric is best situated to transition right into the role of being the next governor," said committee member Jamey Noel, who helped run Holcomb's canceled Senate campaign and came out early to support him in this race.
Though Brooks—who, if elected, would have been the state's first female governor—appeared to be an early favorite in the race, Holcomb appeared to curry more favor with the committee in recent days, with several committee members openly committing to vote to him on Monday.
That followed a dustup with some top donors, including GOP mega donor Al Hubbard, when Holcomb appeared to assert to committee members that he alone had assurances of financial support from Pence's $7 million war chest. Holcomb later clarified that he had not intended to suggest that other Republicans wouldn't get Pence's support if they were chosen.
Brooks got an endorsement from New Jersey Gov. Chris Christie, and Rokita touted his fundraising abilities in several appeals to committee members via email.
Holcomb, 48, became the state's lieutenant governor in March, when he was picked by Pence for the positon after Pence's 2012 running mate, Sue Ellspermann, resigned from office.
Holcomb is an experienced political operative. He was the 2008 campaign manager and top aide for former Gov. Mitch Daniels, who made him the state Republican Party chairman in 2011. He left that position in mid-2013 to become U.S. Sen. Dan Coats' state chief of staff.
"I want to congratulate Eric Holcomb on this latest political appointment," Gregg said in a written statement issued by his campaign. "While there may be a new name on the ballot, the issues remain the same. For too many Hoosier families, wages aren't keeping up and the good paying jobs we are losing aren't being replaced. Eric Holcomb wholeheartedly embraced the failed approach that embarrassed our state, cost us jobs and has left the middle class behind. My economic plan sets our state on a new path forward, one that puts jobs and the middle class first."
Holcomb's connections to Pence and his political work for Daniels gives him strong ties with members of the Republican state committee who'll pick the new candidate for governor. Holcomb, who has never won elected office, spent nearly a year running to replace Coats in the Senate but had little fundraising success before Pence tapped him for the Statehouse position.
Holcomb and Pence both attended southern Indiana's Hanover College and were members of the same fraternity, though at different times. He served in the Navy after college.
He and his wife, Janet, live on the northwest side of Indianapolis.
When questioned what his plan was to increase his name identification across the state since he has never been elected to an office, Holcomb said he planned to travel the state and put out ads and mailers. Holcomb also said he believed the Donald Trump-Mike Pence presidential ticket was a "strong asset" to his campaign.
Holcomb ran for a Senate seat earlier this year against Republican opponents Todd Young and Marlin Stutzman, and appeared to be in last place before dropping out of the race to be appointed by Pence as the lieutenant governor in March after former Lt. Gov. Sue Ellsperman's resignation.
Holcomb said although he has never been elected, he has "had a front row seat" to Republican officials that have led the state for the past 12 years. He formerly served as a chief of staff to U.S. Sen. Dan Coats, and he was a former close adviser to former Gov. Mitch Daniels.
"We cannot allow our state to slip back," Holcomb said. "The only way we can continue Indiana's progress is by joining together. We will continue to balance budgets. We will continue to right-size our tax code, invest in education and infrastructure."
It appears that Holcomb won't be taking a page out of the Daniels handbook by declaring a "truce" on so-called social issues that have divided the state in recent years. Pence has embraced social issues, at time to his detriment, such as by championing the Religious Freedom Restoration Act.
"The General Assembly will focus on what the General Assembly wants to focus on," Holcomb said. "I look forward to working for them across the spectrum."
Holcomb said he wouldn't "speculate" whether or not he would support legislation next year to add civil rights protections to LGBT Hoosiers.
"We'll play it as it comes to my desk," Holcomb said. "We have a balance right now of protecting our religious liberties while making sure we're not discriminating."
 
Please enable JavaScript to view this content.