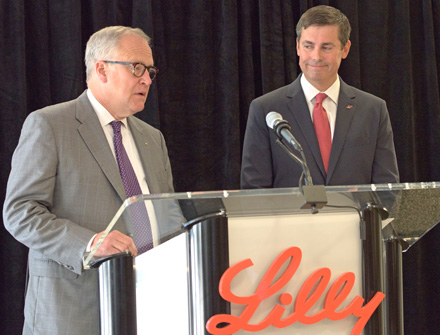 Eli Lilly and Co. CEO John Lechleiter, said Wednesday that his successor, David Ricks, is perfectly suited to take the reins of the Indianapolis-based pharmaceutical giant.
"He has significant experience in the aspects of our business that the board believes are essential to future success:  the development of new products, sales and marketing, and public policy, both here in the U.S. and globally," Lechleiter said of the 49-year-old Ricks, who currently serves as a senior vice president and president of Lilly Bio-Medicines.
Lechleiter—Lilly's current chairman, president and CEO—announced Wednesday morning that he plans to retire at year's end. The company held a press conference late morning to introduce Ricks, who has worked at Lilly since 1996.
When he takes the helm, Ricks will be only the 11th CEO in the history of Lilly, which was founded in 1876.
The company has a strong preference for promoting from within its own ranks, and its culture encourages employees to build their careers within the company, Lechleiter said. For these reasons, he said, "only insiders were seriously considered" for the CEO spot.
Lilly also emphasizes succession planning, Lechleiter said, so plans for this transition had been in the works for years. Lechleiter had heart surgery in summer 2013, which emphasized to him the importance of a seamless hand-off.
Ricks previously held management roles for Lilly Canada and Lilly China. The Indiana native has an undergraduate degree in business from Purdue University, and a master's degree in business administration from Indiana University.
Lechleiter, 62, will retain his role as board chairman until May 31. Ricks will become the company's president and CEO on Jan. 1 and will become board chairman on June 1.
Lechleiter has seen Lilly through some tough times since he took over as CEO in 2008.
Between 2011 and 2014, four of Lilly's top-selling drugs lost patent protection from competitors. Those drugs represented about 40 percent of total revenue in 2009, Lechleiter said, so Lilly took a big revenue hit.
Around the same time, Lilly had some late-stage development failures for drugs it had hoped to bring to market.
But the company's fortunes have turned since then, and the company says it's working on 14 new products that have the potential to come to market by 2023.
"Thanks to John's vision and commitment to innovation, Lilly is in the midst of one of the most productive periods of new product innovation in our history," Ricks said. "Now, we must realize our growth potential in an increasingly challenging international marketplace."
As of June 30, the Indianapolis-based pharmaceutical company employed 11,187 people in Indianapolis, and another 1,242 people elsewhere in Indiana. The company's employment worldwide is 41,897.
 
Please enable JavaScript to view this content.