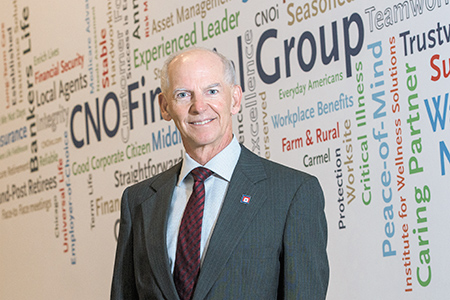 CNO Financial Group Inc. is back in expansion mode after a decade-long turnaround that, in its early stages, saw flirtations with bankruptcy and steep losses from toxic, money-losing product lines.
The holding company, formerly known as Conseco Inc., announced in June the creation of two subsidiaries—Bankers Life Securities Inc. and Bankers Life Advisory Services Inc. It marks the first time the 37-year-old company has launched operating businesses from scratch, executives said.
CNO's bread-and-butter has been insurance products, principally life insurance. The new businesses extend its reach into the investment world, paving the way for its salespeople to sell insurance, securities and advice.
The move signals that one of Indiana's largest public companies has its house in order to the point that it's willing to embark on outward-facing initiatives. It also suggests CNO is determined to have a full suite of retirement-planning offerings as millions of baby boomers close the books on their careers.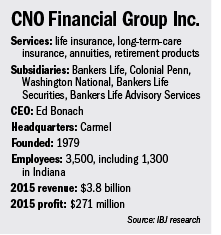 "Baby boomers a few years ago started turning 65 at the rate of 10,000 a day," CEO Ed Bonach said in an interview last month.
"In research that we've done … we have found that most feel unprepared for retirement. So, to have vehicles and qualified financial advisers to be able to address those needs, we felt, was a great opportunity."
The new companies are unlikely to, at the onset, be outsized revenue generators at CNO. But they do offer revenue diversification, as well as tax benefits.
The launch comes at a time of upheaval in the investment business, which is preparing for a new "fiduciary rule" announced this spring by the U.S. Department of Labor. The rule, which mandates that advisers making investment recommendations put their clients' best interests before profits, is expected to put downward pressure on industry commissions.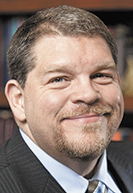 Clark
To be successful in the new environment, CNO will need to build a large force of advisers and keep them well paid, said Joe Clark, founder of Anderson-based Financial Enhancement Group LLC, a registered investment advisory firm with $220 million under management.
Clark predicted that CNO "is going to do everything they can to, one, keep [agents] there and, two, give them a way to make income. Otherwise, they're going to be working at Burger King on the side trying to make a living."
'A mess'
CNO is Indiana's 11th-largest public company, with $3.8 billion in revenue last year. It has three main subsidiaries—Bankers Life, Washington National and Colonial Penn—and it's known for selling life insurance, long-term-care insurance and fixed annuities.
Unlike insurers—such as New York Life and Prudential—that target affluent customers, CNO focuses on middle-income Americans at or near retirement. It has about 3,600 employees, including 1,300 in central Indiana.
The company—launched by the colorful insurance salesman Steve Hilbert in 1979—filed for Chapter 11 bankruptcy in 2002. It restructured and emerged from bankruptcy the following year, only to be knocked into a tailspin when the Great Recession hit in 2008. CNO, weighed down by several money-losing businesses acquired in the go-go 1980s and '90s, needed a $200 million investment from hedge fund manager John Paulson to help avoid another bankruptcy.
Since about 2006, Bonach and his executive team have effectively been repairing their aircraft while flying through a storm. They cast off insurance lines that paid out more to policyholders than they generated in premiums, and eliminated redundancies and inefficiencies caused by earlier acquisition sprees.
Around 2014, executives started dusting their hands of the turnaround work.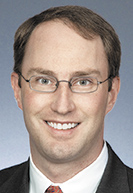 Binner
"The old Conseco was a mess," said Randy Binner, a Virginia-based analyst with FBR Capital Markets & Co. "I'm comfortable saying that. The things this new management team did to turn this company around are very impressive."
The turnaround has paid off handsomely for CNO shareholders. A $100 investment in company stock at the start of 2011 had ballooned in value to $294 by the end of last year. In contrast, that same investment in the S&P 500 would have increased to just $181.
Still, analysts say CNO needs to find ways to spark revenue growth. In the first quarter, revenue was $960 million, off 1.8 percent from the same period a year earlier.
Boomer balloon
Company officials believe part of the answer is to enhance its retirement offerings, riding the wave of a significant shift in U.S. demographics.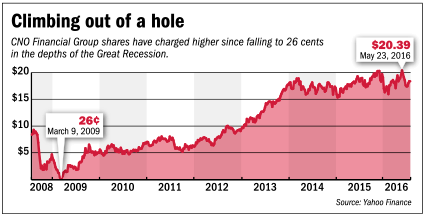 There were 76 million U.S. births from 1946 to 1964, according to the Pew Research Center, making that so-called baby-boom generation the largest in American history. Boomers started turning 65 in 2011 and will all cross that age by 2029.
Some 74.9 million boomers are alive today, and they're driving an unprecedented surge in retirees. In 2010, 12 percent of the U.S. population was age 65 or older, according to the U.S. Census Bureau. By 2030, that figure is expected to be 20 percent.
CNO sees that as a big market opportunity.
Its broker-dealer firm, which has been operating about two months now, allows customers to trade stocks, bonds, exchange-traded funds, 529 plan investments and more. The registered investment advisory offers portfolio management and planning services.
"They don't want to leave money on the table," Clark, of the Financial Enhancement Group, said of CNO.
"People shouldn't have all of their money in stocks and bonds, nor should they have all their money in life insurance."
CNO already has about 300 registered advisers able to sell investment-related products, largely the result of agents' obtaining licenses well before CNO launched the new subsidiaries.
CNO's foray into the investment realm isn't new—it's been partnering with a third-party broker-dealer since 2010 to sell those products. (CNO declined to name that company.)
But Bonach said he wanted to bring that process in-house. Among other results, it means CNO will have greater control over product offerings and agent training.
"The products and services offered by [that third-party firm] are focused on more affluent, high-net-worth individuals," Bonach said. "So there were some gaps in our products and services that best meet middle-market needs."
Goodbye pensions
It wasn't just demographic trends that prompted CNO to launch the businesses. Trends in corporate America also played a role, Bonach said, specifically the shift from traditional, defined-benefit pensions to defined-contribution plans, such as 401(k)s.
In making that switch, companies have significantly reduced their potential liabilities and shifted the responsibility of retirement saving onto employees.
In 1998, according to a report by the London-based advisory firm Willis Towers Watson, 246 Fortune 500 companies offered traditional pensions to most new hires. By 2015, only 25 did.
"When [defined-contribution] plans are the primary retirement vehicle, responsibility and risk are transferred from employers to employees, who must manage their own contribution levels, withdrawals, investments and retirement distributions," the study said.
"Most of those working in the private sector for large employers will retire with less-secure income guarantees than earlier generations, many of whom had traditional defined-benefit plans."
Another study, published in July by the CNO-affiliated Center for a Secure Retirement, found that just under half of retired middle-income boomers receive a regular pension payment from an employer.
Of boomers not yet retired, the study said, only one-third said they expect to receive such a pension.
"With 401(k)s and defined-contribution plans now, the participant takes on the role of chief investment officer," Bonach said. He noted those participants have to make investment choices at or near retirement, too, including figuring out distribution allocations and how to earn a "return that's reasonable based on the risk I can take."
"Candidly, most people aren't equipped to do that. That's not a knock on their intelligence; that's just not where their knowledge base or education and training has been."
New rules
The baby boomer and defined-contribution trends present growth opportunities for CNO, observers said.
The company is aiming its new businesses at people with net worth of less than $1 million and investable assets of $5,000 to $100,000, Bonach said.
Binner, the FBR analyst, said the terrain is fairly open at that income tier, but things won't be entirely smooth for CNO.
Recruiting, training and retaining salespeople have always been difficult for CNO, but the challenges have intensified in recent years. New York-based analysts with equity research firm BTIG noted in an April report that, as the unemployment rate has dropped and more salaried positions open, fewer qualified would-be CNO applicants have been willing to take commission-only roles.
The new Department of Labor fiduciary rule, expected to take effect next spring, might complicate matters.
"When you're looking at your fiduciary standard analysis, the commission paid to the agents is one of the things that will be evaluated," Binner said. "So if the agent is selling a lot of high-commission versus low-commission products—even if it's appropriate—that's something that companies are going to be more sensitive to in the future."
Binner noted, however, that CNO has two things going for it on that front: First, CNO doesn't have to alter its business model, as many older broker-dealers will, because it's starting from scratch.
Also, its agents can still sell insurance products, which aren't subject to the fiduciary rule.
"The [Department of Labor] rule is going to be a challenge," Binner said. "But it's really going to be a challenge for people who have made a living giving retirement advice for a commission. There's going to be a lot of re-evaluation of what they do."
Bonach said he's not overly concerned about the rule. Because CNO's advisers use a needs-based selling approach, CNO could sell investment products without insurance products, and vice versa, Bonach said, all depending on a customer's circumstances.
"We believe that, by doing needs-based assessment and then selling, that helps to tie into the best interest of the customer."•
Please enable JavaScript to view this content.