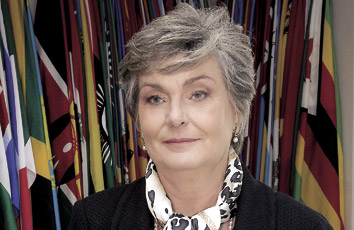 Diane Thomas, who has led The International Center since 2006, plans to step down as CEO and president at the end of the year, the Indianapolis-based not-for-profit  announced late last week.
Thomas said she has accepted a 27-month assignment to serve with the Peace Corps in the Ukraine starting in March. The center said it will try to find a successor by December.
"It goes without saying that everyone connected with the center is indebted to Diane for her service to the organization, and we value highly all she has done over the past decade to advance our city, our state, and our own center's mission," Robert Postlethwait, chairman of the organization's board, said in a written statement. "Her legacy is secure and extraordinary."
 
The 43-year-old International Center, which promotes global outreach for the city and state, has more than doubled its budget since Thomas took over leadership. Last year, the center received a $5 million sustainability grant from Lilly Endowment.
 
Thomas, who was born in Libya and grew up in France, Germany and the United States, has built a staff of 23, including 15 employees who were born or lived overseas. 
Ten staff members are relocation experts who help business clients adjust to life in Indiana.
"The organization is stable financially, and has an outstanding team of professionals who are incredibly dedicated to the work of the center," Thomas said in a statement. "Whether in cultural training, protocol, delegation services, and international relocation support, each and every one believes in The International Center's mission and vision."
Thomas was named an IBJ Woman of Influence in 2011. Her profile appears
here
.
Please enable JavaScript to view this content.