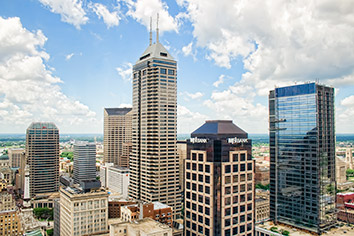 Salesforce.com Inc. would receive a 10-year tax break on a $28.8 million investment in new equipment if the City-County Council agrees to designate a downtown office tower as a "high-technology district."
The San Francisco-based company announced in early May that it plans to add 800 jobs in Indianapolis by 2021 and establish a regional headquarters in downtown's Chase Tower—to be renamed Salesforce Tower.
As part of the expansion, Salesforce pledged to invest $28.8 million in new equipment as part of a total investment of $43.8 million. The company would be exempt for 10 years from paying personal property taxes on the new equipment, if the council designates the tower as a high-tech district.
Salesforce would save an estimated $3 million over the 10-year period.
The proposal, approved by the council's Metropolitan Economic Development Committee on Monday evening, goes before the full council Aug. 15.
Salesforce would need to create the 800 jobs within the next five years at an average annual salary of $85,000 to retain the tax break. If it does, the company would grow its local workforce to 2,400.
The city incentives would come on top of the $17.2 million in tax credits it would receive from the state if it meets its hiring goals. That incentives deal was announced by the Indiana Economic Development Corp. in May.
The e-mail marketing company already is one of downtown's largest employers. Salesforce employs 1,588 people in Indiana—most of them in Indianapolis—compared with 1,133 at the beginning of 2012.
Salesforce came to Indianapolis by acquiring ExactTarget Inc. in 2013 for $2.5 billion.
"It raises the street cred for tech jobs wanting to come to Indianapolis," City-County Councilor Jeff Miller said of Salesforce's commitment to the city.
Shortly before the purchase of ExactTarget, the council approved similar high-tech districts for ExactTarget's downtown offices in the Century, Gibson and Guaranty buildings. The tax exemptions on new equipment at those locations have been in effect for three years.
Please enable JavaScript to view this content.