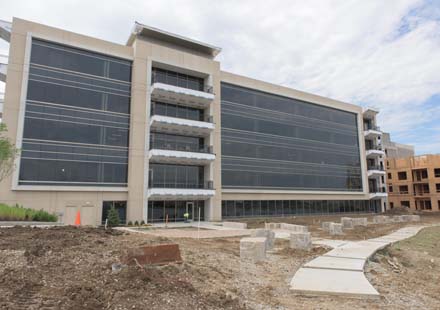 The River North office building is raising the stakes in the Keystone Crossing submarket by commanding top rents for the area before it's completely finished.
Indianapolis-based PK Partners LLC is developing the 102,000-square-foot office building along River Crossing Boulevard near The Fashion Mall as part of a larger, $80 million project.
The development also includes a five-story, 198-unit apartment building and parking garage, in addition to a 129-room Hampton Inn hotel—both under construction. Also, Walker Information, a local family-owned consulting firm, is teaming with PK Partners to build an $11 million, 54,000-square-foot headquarters.
River North won't be fully occupied until the end of the year, but it already is entirely pre-leased. That's sending a message to area office park owners.
"You're looking at River North being an incredible, unique opportunity," said John Robinson, an office broker at JLL, who leases the Keystone at the Crossing office complex and the adjacent Precedent Office Park. "They got the rents they deserve in a location that warrants top-of-market rents."
At $25.50 per square foot, River North's rent is well above Keystone Crossing's average rent of $20.22 per square foot. Even so, PK Partners' had little problem attracting tenants.
Gene B. Glick Co., which will manage the adjacent apartment project, and Sheaff Brock Investment Advisors are moved in. Other tenants on the way include Scannell Properties, UBS Financial Services Inc., Robert W. Baird & Co and PK Partners.    
UBS and Baird will move from the nearby office building at 8888 Keystone Crossing into River North. Rent at the 8888 building is $23.50 per square foot. But once UBS and Baird leave, the asking rent for their spaces will jump to $24.50 per square foot, on the strength of River North, Robinson said.
"We knew when they built that building, we would lose a tenant or two," Robinson said. "But all in all, what they did there is healthy for the market."
River North benefits from not only being in a high-end retail trade area but also by offering covered parking with scenic water views of the lake surrounded by other office buildings and the River North at Keystone Apartments.
"Those things, combined with being in a great submarket, will get you the highest rents," said Darrin Boyd, an office broker at Cushman & Wakefield.
The Keystone Crossing submarket has been a strong performer even without the addition of River North. Its vacancy rate in the second quarter was just 12.6 percent, trailing only Carmel's 7.7 percent rate for markets with more than 1 million square feet of office space. By comparison, downtown's vacancy rate is 17.4 percent, according to the latest CBRE statistics.
Meanwhile, PK Partners is pleasantly surprised by River North's quick success, said Wes Podell, the firm's vice president of leasing and development.
"We thought we would [develop it] over five to seven years, but it's a sign of the market," he said. "People are receptive to what we're doing."
PK Partners received a six-year tax break from the city worth about $830,000 to help it develop River North.
PK Partners' history in the broader Keystone Crossing area runs deep. Leonard Larman, the late father of PK President Phil Larman, started developing the area in the 1970s. He oversaw construction of the original mall, restaurants and an office tower. But a few years later, his partner Indiana National Bank had to divest its ownership to comply with new federal regulations.
In the shakeout, Leonard took control of the 85-acre River Crossing site but did not live to see it developed. Son Phil took over, winning zoning approval for the overall project in 1993.
PK Partners since has developed several buildings in the area, including River Crossing I, II & III, which are nearly fully occupied. River Crossing I and II are now owned by Wakefield, Massachusetts-based Franklin Street Properties Corp.
 
Please enable JavaScript to view this content.