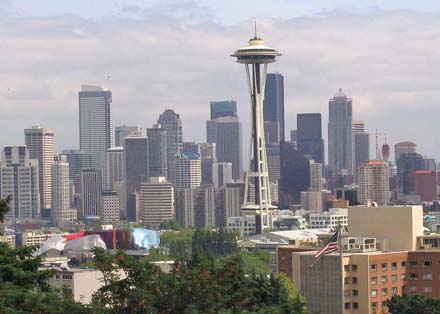 Alaska Airlines will offer nonstop service from Indianapolis to the Washington state high-tech hub of Seattle in early 2017, Indianapolis International Airport officials announced Wednesday morning.
Tickets already are available for the flights, which will start in May, according to airport Executive Director Mario Rodriguez.
"Today's announcement has been more than two years in the making, … all focused on giving Indianapolis a direct connection with a vibrant industry sector in the Pacific Northwest, and a highly anticipated leisure travel option," Rodriguez said in a prepared release.
The new nonstop service is the first year-round flight to Seattle in the airport's history, officials said. It will operate daily between Indianapolis and Seattle-Tacoma International Airport.
The announcement "underscores a new opportunity for more efficient and productive business travel to the West Coast, enhancing our efforts to spark innovation and create more quality, high-skilled Hoosier jobs while attracting and retaining top talent in Indianapolis," said Victor Smith, Indiana Secretary of Commerce.
Seattle has become a hub for infotech and Internet-based companies, including Amazon, BitTitan, Zillow, Expedia and PayScale. It's also the home of coffee monolith Starbucks and influential music label Sub Pop.
Indianapolis airport officials worked in tandem with local tech executives and the Indiana Economic Development Corp., Visit Indy and Indy Chamber to arrange for the service with Alaska Airlines.
"It starts filling in the West Coast, and especially the Northwest, which we had no direct service to," Rodriguez said.
Seattle is among the top destinations for Indianapolis travelers, who currently must make connections in order to reach that city, he said.
United Airlines added nonstop service between Indianapolis and San Francisco in 2014. To secure that service, the IEDC agreed to provide up to a $1.5 million annual backstop to cover any gap between the airline's quarterly revenue and a contracted minimum.
Smith said that was not the case with Alaska Airlines. The state did not offer incentives, nor did the airline ask for any, he said.
"We didn't have any incentive money in this whatsoever, which is fantastic," Smith said.
Alaska Airlines did, however, receive incentives from the Indianapolis Airport Authority, which offers a package of incentives to airlines offering new or expanded service at the facility.
The two-year incentive package includes fee waivers and leasing credits, along with marketing support such as signs and banners.
Over a two-year period, the airport estimates, the value of these incentives to Alaska Airlines will be $855,000.
The airport authority will fund these incentives out of its operating revenue – money it earns from things like airplane landing fees, parking fees and tenant leases.
Rodriguez and Smith said the airport and its partners worked for nearly two years to woo Alaska Airlines – not an unusual time frame for airlines, which plan routes and service far in advance.
Smith traveled to Seattle during the first quarter to meet with Alaska Airlines representatives directly.
Indianapolis is one of two Midwestern cities Alaska Airlines plans to enter next year.
In an announcement of its own, the airline said Wednesday that it will add both Indianapolis/Seattle and Wichita, Kansas/Seattle flights next spring. The flights from Indianapolis begin May 11, and the flights from Wichita begin April 13.
Alaska Airlines already serves seven Midwestern cities: Chicago; Detroit; Milwaukee; Minneapolis; St. Louis; Omaha, Nebraska; and Kansas City, Missouri.
Please enable JavaScript to view this content.