Donald Trump cited Gov. Mike Pence's work on the Indiana economy and jobs as a reason to pick him as a running mate. Has Pence done a good job in that area?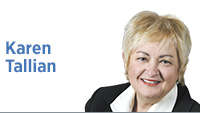 The $2 billion surplus gleamed as bright as the perfect silver hair and the million-dollar smile. No wonder Donald Trump was dazzled. But the realities of Mr. Pence's economic policies leave a bleak legacy.
First salvos from this governor called for huge tax cuts for everyone. Not needed, even the Republican Legislature groaned. But it gave in to the new governor, enacting a 5 percent cut to be phased in over several years. A flashy move and great publicity for a guy with national aspirations.
The result: Indiana's revenue stream has diminished yearly, and we will have pulled over $6 billion out of our operating revenue by 2023. During this national economic recovery, Indiana experienced negative revenue growth in fiscal year 2016 and Indiana's household income has fallen almost 11 percent, eighth worst nationwide.
Starvation is his second legacy. Following the Great Recession, Indiana's budget was slashed by a sharp blade. Without debating the propriety of specific numbers, cuts in state spending were at least an expected response to an economic emergency.
Now, however, while bragging about an amazing economic recovery, Pence's policy has been to keep state government on a starvation budget. Yearly reversions are mandatory. No matter what the Legislature allocates to any specific program, the Governor's Office requires a percentage "give back".
Indiana's "filet mignon" surplus sizzles, while many agencies exist on generic mac and cheese. How does Mr. Pence sustain a policy of growing a bloated surplus while revenue declines?
The answer, of course, exposes the secret of Pence's fiscal policy. Because agencies are starving, basic government services suffer or die.
■ The Department of Revenue, which collects taxes, has antiquated computers and insufficient staff.
■ The Board of Accounts, charged with auditing local government, was so depleted it was almost non-functioning. It was exempted from reversion, and the Legislature had to enact new fees to be paid by local governments.
■ The Department of Natural Resources is a skeleton. Conservation officers are driving inefficient vehicles.
■ The Department of Child Services case worker situation was so bad the Legislature finally mandated it to hire more. DCS is even being sued by its own staff because caseloads are so overwhelming.
■ Alas, even the small state grant that supports public broadcasting stations is subject to reversion.
Everyone pays tithe to the surplus god.
And then there is road funding. For the first time in my 11-year legislative tenure, we had to take a second look at the enacted budget in a non-budget building year to ensure money was available for roads. This is after Pence pulled a "kill the messenger" optic with his Department of Transportation chief, who dared to expose the dire realities of Indiana's road funding needs.
Look past the bling and you will see the Pence economic policy has left a messy legacy for Indiana. It was always about showmanship. Perhaps Pence is not a strange choice for Trump after all.•
__________
Tallian, a Democrat representing Senate District 4, is from Portage. Send comments to ibjedit@ibj.com.
Please enable JavaScript to view this content.