Donald Trump cited Gov. Mike Pence's work on the Indiana economy and jobs as a reason to pick him as a running mate. Has Pence done a good job in that area?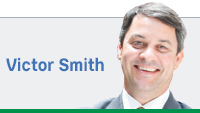 Since Gov. Mike Pence accepted the call to run for vice president, Indiana's economy has been shining in the national spotlight. Scan headlines and you'll see commentators boasting about Indiana's robust economy—a success story Hoosiers know firsthand.

Here in Indiana, job creation is job one. I'm proud to say more Hoosiers are working than ever. Hoosier employers have added nearly 150,000 jobs since 2013, while Indiana's unemployment rate has plummeted from more than 8 percent to 4.8 percent.

But don't just take my word. Earlier this year, Indiana was ranked best in the Midwest and fifth in the nation for doing business by Chief Executive magazine. And last year, Indiana was ranked among Forbes' top 10 states for business for the first time.

Most important, Indiana is a great place to find a job. In 2015 alone, the state secured commitments from 323 companies, which together plan to create more than 26,500 jobs with average salaries nearing $52,000.

Consider Salesforce, the world's fastest-growing top 10 software company, which recently announced plans to establish Salesforce Tower Indianapolis and add 800 high-wage jobs. From startup firms to established manufacturers, businesses like Subaru, GE Aviation, Rolls-Royce, Sallie Mae and Octiv are choosing Indiana.
Indiana's comeback wasn't an accident, and it didn't happen overnight. Through the bold vision, tireless work and strong leadership, we've established Indiana as A State That Works.

A strong business climate starts with a balanced budget. Indiana's surplus remains strong and reserves are at their highest level in history. This provides stability and predictability for job creators, allowing them to invest in what matters most—their business and their employees.

That surplus grew while Indiana was cutting taxes and slashing red tape. After placing a moratorium on new regulations, Pence signed into law the largest state tax cut in Indiana history and eliminated the state's death tax. Indiana paid off its unemployment trust fund loan, saving businesses an additional $327 million in taxes. In all, these actions have resulted in $3.5 billion in tax relief for Hoosiers through 2022.

Pence recognizes that cutting taxes and bureaucracy is not enough. States must make smart investments to address challenges that threaten their futures. That's why Pence is making historic investments in education, infrastructure, innovation and workforce to carry Indiana's economic momentum into our third century. The governor's Regional Cities Initiative is sparking long-term planning and investments to attract and retain top talent. And last month, Pence announced a plan to invest $1 billion in Hoosier innovation and entrepreneurship over 10 years, ensuring Indiana will play a leading role in solving 21st century challenges.

This year, as Indiana celebrates its bicentennial, we also celebrate an economy that is operating at its peak. Thanks to Pence and our state's pro-growth policies and vision, I am confident Indiana's third century will be its best yet.•

__________

Smith is the Indiana secretary of commerce. Send comments on this column to ibjedit@ibj.com.