Dozens of large law firms in the biggest cities are raising starting associate pay to $180,000—for many, the first salary increase they've given to young lawyers since before the Great Recession.

But don't expect Indianapolis' top firms to follow suit. The big four—Barnes & Thornburg LLP, Faegre Baker Daniels, Ice Miller LLP and Taft Stettinius Hollister LLP—all pay starting associates $110,000.

"It would be silly to pay $180,000 in Indianapolis," said Robert Hicks, managing partner at Taft's Indianapolis office. "Our hourly rates couldn't sustain it."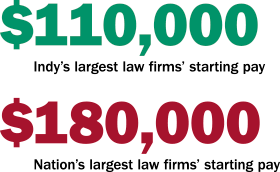 The city's biggest firms moved from $105,000 to $110,000 in January and have no plans to increase starting pay again—or at least not to the extent the big nationals are.

New York City-based Cravath Swaine & Moore started the wage battle in early June when the firm announced it had raised beginning salaries $20,000—to $180,000. More than 100 firms in other cities such as Boston, Chicago and Los Angeles since have matched the pay, setting off a nationwide debate within legal circles about the merits of a major salary increase.

The issue is striking such a chord that the Above The Law blog, which has a wide following nationally, has dedicated an entire section to it and keeps a tally of the firms that have raised starting pay to the new threshold.

Eric Seeger, a principal at the suburban Philadelphia-based Altman Weil legal consultancy, said the decision to increase starting salaries ultimately could hurt firms more than help.
"Is this good for clients? No," he said. "Clients are already moving work in-house because law firm fees are too high."

In New York City, partners can charge up to $1,500 an hour, more than double the $700 an hour their counterparts command in Indianapolis.

For top-of-class starting associates, earning $180,000 fresh out of law school might seem too alluring to pass up, particularly when they're strapped with student loan debt that easily can surpass $200,000.

But with the higher salary comes the pressure of billing more hours. In New York City, young associates are expected to bill 2,500 hours a year, or 48 hours a week. In Indianapolis, the magic number is 1,850 a year, or about 35 hours a week.

"Although those jobs are often sought out, the turnover is really high," said Antony Page, vice dean of the Indiana University McKinney School of Law in Indianapolis. "The demands of the billable hours are quite high."

16-hour days

It's a tradeoff that young lawyers such as Adam Law, 27, and Jacob German, 28, routinely contemplate.

Law, whose last name couldn't be more perfect for the profession he chose, practices in Taft's real estate and business and finance groups. German is a member of Barnes & Thornburg's governmental services and finance department.

An Illinois native, Law graduated from the University of Illinois College of Law in 2014 and considered starting his career in Chicago, St. Louis or Indianapolis. What he knew for certain, though, is that he wanted to work at a large firm, given the unique opportunities they offer, he said.

He came to the conclusion after working one summer for a sole practitioner who crafted wills and basic real estate transactions.

"It's the type of work you would churn through mindlessly," Law said. "I didn't see any long-term job satisfaction."

He chose Indianapolis above the other two cities so his wife could pursue a doctorate in child psychology at Indiana University in Bloomington. His hours are "manageable," Law said, though wild swings in work can produce 16-hour days.

Like Law, German knew he wanted to practice at a large law firm. He graduated from the IU Maurer School of Law in Bloomington and immediately started at Barnes & Thornburg. His interest in government and business led him to a career in law.

The biggest challenge for him and other associates, he said, is developing business and bringing in clients.

"There is an expectation of a lot of work when you come to work at a large law firm," German said. "I don't think that's any secret. There is no norm when you're coming out of law school."

Indy still attractive

Law firms became stingier with pay increases for associates after the Great Recession, which ran from December 2007 to June 2009, caused U.S. businesses of all stripes to cut back.

In Indianapolis, starting associate pay at the top firms rose to $105,000 in 2013 before climbing to $110,000 early this year. That compares to $150,000 or $160,000 for a veteran associate on track to become a partner.

While the increases sound modest, they trigger a domino effect—with more seasoned associates getting raises as well—that can cost firms millions of dollars, said Seeger at Altman Weil.

"To the associates, it looks like free money," he said. "But the partners aren't going to hand it to them for free."

They might be required to bill more hours, Seeger said. Or the law firms might cut bonuses or benefits or even let some associates go.

Some young lawyers already are finding it harder to get a foot in the door. The recession caused many firms to pull back on hiring, which, in turn, dampened the demand for law school degrees. Law school admissions at IU in Indianapolis fell nearly 20 percent from 2011 to 2015, to 254, according to the school's Office of Admissions.

Nationwide, law schools received 6.7 percent fewer applications in 2015 than in the previous year, according to the not-for-profit Law School Admission Council in Newtown, Pennsylvania.

Now, the dip in admissions might be forcing firms to sweeten the pot, Seeger said.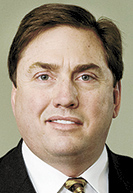 Hicks
"All the best law firms are still going to compete for the best students," he said. "If there are fewer top-caliber students graduating these days, that could be fueling the salary increase."

Taft's Hicks, who becomes firm-wide managing partner on Jan. 1, said his 104-lawyer office in Indianapolis has had no problem attracting young, talented lawyers. Taft also has outposts in Chicago, and four in Ohio—Cincinnati, Cleveland, Columbus and Dayton—in addition to Covington, Kentucky; Ann Arbor, Michigan; and Phoenix.

One of the biggest benefits of Indianapolis is its affordable cost of living. Cheaper living costs allow firms here to pay less, but they at least want to stay within shouting distance of their bigger-city rivals. Too large a gap might make it harder to convince loan-laden law grads of the merits of accepting a position here.

Still, the widening pay gap doesn't seem to be much of a factor yet.

"We have no trouble hiring the top students at all the law schools that we typically recruit," Hicks said.•