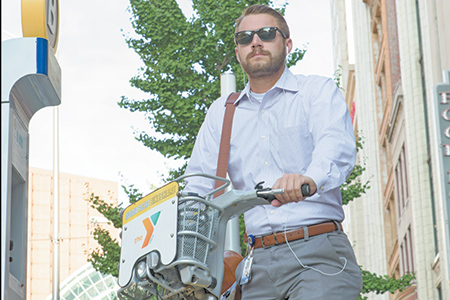 Nearly 26 times a day, someone checks out a Pacers Bikeshare bike from the station at the corner of Washington and Meridian streets.
It's the most active of the bikeshare system's 27 stations—busier than the one at White River State Park and busier even than the ones on trendy Massachusetts Avenue.
What makes this fact more interesting: The Washington/Meridian station wasn't even in the program's original plans.
But the Indianapolis Cultural Trail, a local not-for-profit that runs the bikeshare, sought public input before the program's launch in April 2014, and people said they wanted a station at the busy intersection. That was a challenge, remembers Kären Haley, executive director at the Indianapolis Cultural Trail, because the high-tech bike racks need power and take up space, making the station compete with the trail's landscaping.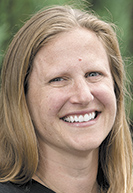 Haley
But demand for a station was so strong that organizers chose bikes over blooms in that spot.
"I think it was the right decision," Haley said.
In fact, bikeshare officials know it was a good move, thanks to the program's sophisticated data tracking system. All 251 bikes are outfitted with GPS equipment; at any given time, staffers can identify their location. Software tells how many times each bike gets checked out, how long each trip is, and where the bike goes.
If a bike needs immediate maintenance—it has a flat tire, for instance—staffers can lock it into a station so no one can check it out until it's fixed.
And the data collected from sign-ups for daily and annual passes helps staffers determine that annual members are more likely to use the program on weekdays, and that usage among this group spikes at 8 a.m., noon and 5 p.m., correlating with commuting and lunch patterns.
In contrast, daily users are more active on Saturdays and Sundays. Among this group, the usage chart looks more like a gentle curve, with peak ridership in the hours of 2 p.m. to 4 p.m.
The data also represents "a very unique opportunity" for academic researchers, said Jeff Wilson, professor of geography and associate dean for research at IUPUI's School of Liberal Arts.
About six months ago, Pacers Bikeshare started sharing its user data with IUPUI for research purposes.
This data set, Wilson said, includes 13.5 million data points—GPS information gathered whenever the bikes are in motion.
"It's an incredibly huge data set," he said. "You need very powerful computers to process it and work with it."
Right now, researchers are cleaning up the data to make it easier to use.
Once that's accomplished, Wilson said, the information could be useful across a variety of disciplines: geography, public health, physical education, health behavior and tourism management.
Researchers could look at how much physical activity bikeshare use provides in comparison with recommended levels of exercise. Or they might discover efficiencies—ideas for locating bikeshare stations so the system runs more smoothly.
The bikeshare concept is still relatively new in the United States. Wilson said he's not aware of any other bikeshare research that uses GPS data with the degree of detail the Pacers Bikeshare has provided.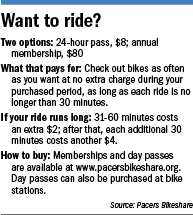 "We're really excited about the project."
The data also is helping Pacers Bikeshare consider its future.
When the service launched, money for the equipment—all the bikes and stations—came from a $1 million federal Congestion Mitigation and Air Quality grant from the Federal Highway Administration.
Haley said she intends to apply for a similar grant this fall. If Pacers Bikeshare secures the grant, it would use the money to double the number of bikes and stations in coming years.
Usage data will be key in deciding where the new stations should go, and whether the bikeshare should expand its footprint to include more off-trail stations.
Because the bikeshare and the Cultural Trail are intended to complement each other, Haley said, bikeshare data can also help with trail planning.
"It helps us plan for what's next," Haley said. "Where are people riding that's now off-trail?"•
Please enable JavaScript to view this content.