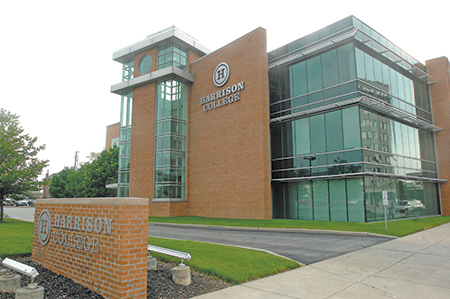 Financial aid and class credits for as much as 8 percent of Indiana's college students could be at risk as federal officials work to close down a national accreditor of for-profit schools.
Those students attend Harrison, Brown Mackie and nine other proprietary institutions that have 33 campuses statewide.
They're all accredited by the Washington, D.C.-based American Council of Independent Colleges and Schools, which is under scrutiny from the Obama administration for lax oversight of its schools.
Indiana Higher Education Commissioner Teresa Lubbers said the state is closely watching the situation play out.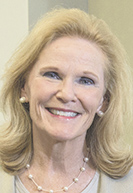 Lubbers
"Our top concern is the welfare of students," Lubbers said.
The U.S. Department of Education has so far crossed two of three thresholds in its effort to shut down ACICS, in what is considered to be one of the strictest actions ever taken against a college accrediting group.
A final decision from the DOE is expected in less than two months. That could be followed by an appeals process and a lawsuit if the decision doesn't go the group's way.
Nationwide, ACICS oversees 245 institutions with 900,000 students, many of them for-profit schools.
Though Indiana has a few for-profit colleges that are accredited by other groups, the Indiana Commission for Higher Education says the vast majority of proprietary college attendees go to schools overseen by ACICS. In Indiana, that's about 51,000 students.
And if ACICS is shut down, the results could dramatically affect Indiana's for-profit college sector at a time it's already struggling: In July, Carmel-based ITT Educational Services Inc., which runs ITT Technical Institutes nationally, signaled to investors it is gearing up for a major enrollment loss. And in June, Pittsburgh-based Education Management Corp. said it will close Brown Mackie College in Circle Centre mall in 2018 as part of nationwide cutbacks.
Both companies also are facing their own scrutiny from ACICS, as it seeks to demonstrate that it is fulfilling its watchdog role.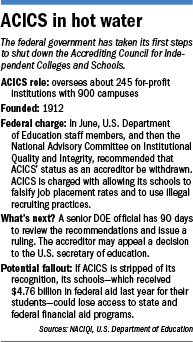 Calls to ACICS and the Career Education Colleges and Universities, the trade group for for-profit colleges, were not returned by IBJ's deadline. Most of the local schools accredited by ACICS did not respond to messages from IBJ, although a few said they would seek other accreditation if necessary.
Harrison College spokeswoman Becky Polston stressed in a statement that, even if the federal government's final decision was to shut down ACICS, a transition process would take about 18 months, during which time students still would receive federal aid and the college would remain accredited.
If necessary, she said, Harrison will seek accreditation through another group.
"Harrison has been accredited continuously by ACICS since 1980 and has maintained complete compliance with ACICS requirements since that time," according to the statement.
If any school were unable to find alternative accreditation, its students would lose access to federal and state financial aid.
Financial aid accounts for the vast majority of for-profit schools' revenue. Students at ACICS-accredited schools last year received $4.76 billion in federal financial aid.
Lubbers said Indiana officials are trying to determine how they can help.
"We feel a responsibility to make sure we're doing our due diligence to provide as much security and consumer protection for students," Lubbers said. "The schools could cease to exist because of this, and the students could be in jeopardy of losing credits or financial aid."
Watchdog or lapdog?
Scrutiny of for-profit colleges has been on the rise since President Obama, an outspoken critic of the industry, took office in 2009. But a flash point seemed to be the sudden bankruptcy and collapse of the for-profit Corinthian Colleges Inc. chain in 2015—and ACICS' handling of the situation.
An investigation by multiple states and federal officials found that Corinthian lied about job-placement rates to its students and potential enrollees. It has since been ordered to pay more than $1 billion in restitution and penalties.
"For years, ACICS had looked the other way when presented with evidence of serious wrongdoing and concerns at a host of colleges," said Ben Miller, a policy director at the left-leaning Center for American Progress.
U.S. Sen. Elizabeth Warren, a Democrat from Massachusetts, has been leading the charge against the organization, writing in a June letter to federal education officials that it has "an appalling record of failure."

In a response that month, ACICS said it "takes seriously all criticisms against our organization and we recognize the need for internal reform in order to better protect and serve students."
ACICS has taken recent steps to save itself, including the Aug. 2 resignation of its leader, Anthony Bieda, and the appointment of an interim leader, Roger Williams. According to the publication Inside Higher Ed, "roughly a quarter of the agency's staff has been laid off in recent days."
A federal panel in late June praised ACICS' recent accountability moves, but nonetheless concluded the group was beyond repair and should be shut down.
"I think they are heading in the right direction, but it is too late," Simon Boehme, a member of the National Advisory Committee on Institutional Quality and Integrity, said at its recent meeting, according to a transcript.
Some voting members of that group said the move would be a strong signal to other college accreditors.
"It's not a zero-sum game," said Miller of the Center for American Progress. "There's a lot of them that need to do a better job."
Challenges abound
Even if ACICS continues to operate, schools it accredits face plenty of challenges.
ITT said in a recent SEC filing that it expects new-student enrollment to drop 45 percent to 60 percent in the next six months, compared with the same period last year.
Meanwhile, ACICS is on the verge of deciding whether ITT's accreditation "should be withdrawn by suspension or otherwise conditioned," according to the filing.
ITT spokeswoman Nicole Elam said the college met with ACICS this month to "demonstrate our compliance with accreditation standards."
Education Management Corp.—which runs Brown Mackie, the Art Institute of Indianapolis and other chains—also has faced federal scrutiny and recently was required to pay millions in loan forgiveness to students, including $5.7 million to more than 5,500 Indiana students.
Indianapolis-based Harrison College declined a request for an in-person interview and also declined to answer questions.
Instead, it sent a written statement that said "Harrison has an excellent track record of compliance with our industry's regulations and just received a satisfactory outcome from the latest extensive review conducted by the DOE."
Lubbers said while the higher education commission waits on the action of the federal regulators, her staff is focused on providing better data to students about the return on investment of their degrees.
She encouraged students who feel they have been victimized by a for-profit institution to contact the Indiana Attorney General's Office. Students with questions about the future of their schools can also email the commission at info@che.in.gov.
"If I put myself in a student's position—would I even be aware of these conversations happening?" Lubbers said. "Would I know what I needed to be doing?"•
Please enable JavaScript to view this content.