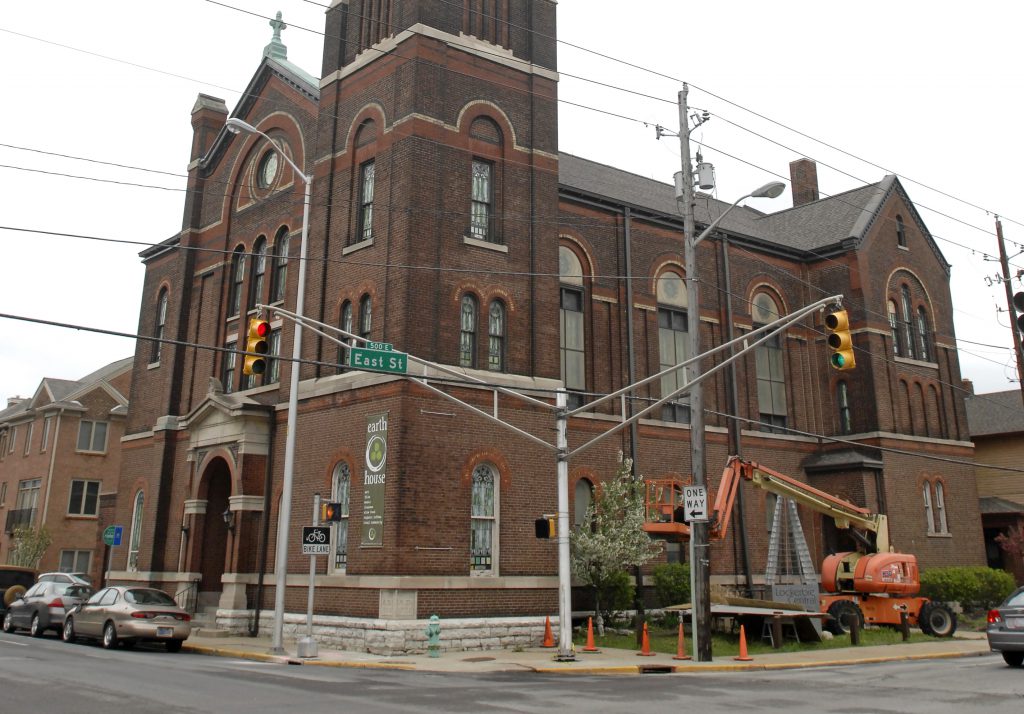 The owner of the former Lockerbie Central United Methodist Church wants to convert the historic building into an event center, despite fierce opposition from neighbors.
Local real estate broker Cyrus Jafari in May 2013 bought the property at 237 N. East St., which operated as Earth House Collective from 2007 to 2012. The arts and events organization offered features such as a cafe, art displays, live music and a community garden. It also hosted monthly meetings of Verge, a networking group for entrepreneurs and the tech community.
Earth House closed in 2012, with leaders citing its unsustainable business model. Jafari bought the building with plans to convert it into office space or residential units. He later switched to a 221-seat event center after encountering costly challenges.
Jafari said he already has spent nearly $500,000 installing a new roof on part of the structure, repairing the stained-glass windows and tuck-pointing the exterior brick. The total may rise to $1 million after he installs a new heating and cooling system and makes other repairs.
Several residents lined up at the Indianapolis Historic Preservation Commission's Aug. 3 meeting to speak against Jafari's plans. But he's hopeful some sort of compromise can be reached.
 
"The cost of keeping the building is so high that we cannot just leave it vacant," Jafari told IBJ. "We're going to keep it exactly the way it is. The only thing we will do is make it nice."
Jafari is seeking to rezone the property from its religious use to mixed use, which allows for an event center. He also wants a zoning variance to allow for less onsite parking than what is required. An agreement giving him access to 32 spaces at a nearby surface lot during nights and weekends brings the total to 60.
He presented his arguments to the IHPC, which continued the case until Sept. 7 to provide more time for discussion.
The biggest concerns among Lockerbie residents were the proposed 1 a.m. closing time, additional noise the center is expected to bring to the neighborhood, and the shortage of parking.
"There already was an event center there," said Dennis Wright of the Lockerbie Square People's Club, referring to Earth House. "It was not suitable to our neighborhood. There were parking issues and trash."
However, Jafari's proposal for an event center is supported by some neighbors. Tom Hirons, who operates the Hirons & Co. advertising agency at 422 E. New York St., about a block from the church, said Jafari has alleviated any worries he might have had.
"The last thing I want is to continue to be next to a vacant building that risks water infiltration and other challenges," said Hirons, who also lives in The Packard condo building on East Ohio Street, about a block south of the church.
IHPC received roughly 35 letters both supporting and opposing the project, said Meg Purnsley, the commission's principal architectural reviewer, demonstrating the vast amount of interest in the project.
"If no one cared, you would not have any letters in this folder," she said at the Aug. 3 meeting. "People are thinking about how these buildings should be reused."
One of the more interesting reuses of a church is the microbrewery to the east located in a former Catholic church—what's now known as St. Joseph Brewery & Public House at 540 N. College Ave.
The Lockerbie Central United Methodist Church building was constructed in 1883 to serve a German congregation that formed in 1852. It was designed by German-born architect D.A. Bohlen.
Very few alterations have been made to the building, IHPC noted in a report. Perhaps the most significant is the removal of a German inscription on the cornerstone, which was chiseled off during anti-German hysteria that surfaced during World War I.
 
Please enable JavaScript to view this content.