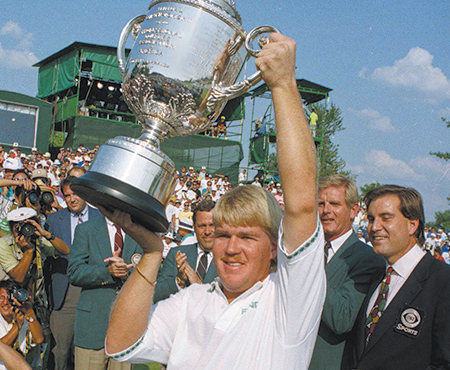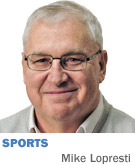 Imagine the ultimate golf underdog story. Imagine the championship no one could have seen coming. Imagine "Hoosiers," with a driver instead of a basketball in Jimmy Chitwood's hands.
Actually, no need to imagine. It happened. Here. Twenty-five years ago this month.
Sometime in the early-morning hours of Aug. 8, 1991, John Daly rolled into town after a hurried 7-1/2-hour drive from his home in Memphis, Tennessee. He was a golfer few had heard of, showing up to play the first round of the PGA Championship on a course he had never seen. A ninth alternate invited at the last minute, when a flurry of twists of fortune opened a spot.
You might recall the rest. By Sunday night, he was PGA champion, and a long-hitting legend. By Sunday night, millions had heard of him and the course on which it all happened, Crooked Stick Golf Club. A quarter century later, the echo of the roars that weekend can still be heard on the Pete Dye-designed course in Carmel.         
Jim Ferriell was then the club pro, now retired.
"Crooked Stick was put on the map by Daly. It's never stopped. Every time they talk about Daly, they talk about winning at Crooked Stick.
"Our club was well known in golf circles, but it was the first time nationally people knew where Crooked Stick was, and what it was. It helped solidify our position as a top-flight golf course in this country."
A recent visit there found workers readying the place for the BMW Championship next month. Maybe that and the other high-profile tournaments played there in recent years would have come, anyway, but the glow from the 1991 PGA didn't hurt. Not at all.       
Walk by the pro shop, and on the wall is a photo of Daly, crouching by his new trophy. Also the No. 18 flag he signed. In the club bar is a letter on display—above the jars of pretzels and peanuts—dated July 29, 1991, sent from PGA official Ken Anderson. The letter announces the alternate list for the tournament, and down there at No. 9 is John Daly.
Frandsen is past president at the club, and was on the practice range committee for that tournament.
Daly arrived in Indy as …
A PGA Tour rookie who had missed 11 cuts in 23 tournaments.
A 25-year-old country boy who had taught himself the game on a nine-hole course in Arkansas.
A late add-on invited only because four other players had to be replaced, and the four remaining alternates turned down the invitation for various reasons. Not until Nick Price pulled out the day before the first round to be with his soon-to-be-in-labor wife did Daly get his chance.
Dye had designed a course—the second-longest to ever host the PGA at that time—with lots of peril for mortal golfers. Daly just hit over most of the trouble. That weekend, he was in a different universe. And putting well, too.
Ferriell: "I didn't know anything about John Daly. Even during the tournament, we were watching the scoreboard—like, 'Who is this guy?' Then you're hearing stories about where he was hitting it off the tee.
"Nobody had seen this. … No. 8, he was hitting it so far he took the lake out of play on the second shot. I think he reached No. 5 at one time or another [in two shots]. It was about 605 yards."
Frandsen: "I first saw him on the practice range Friday. He hit the ball farther than I had ever seen anyone hit a golf ball. And he was straight. The guy was hitting the ball 20 and 25 yards farther than anybody else, so he was able to play that golf course a way that no one else had ever played it."
The big news in Thursday's first round was tragedy. A storm rolled over Crooked Stick and Thomas Weaver of Fishers was killed by a lightning strike, 100 yards away from reaching his car.
By the end of the day, Daly had shot a 69 and was tied for eighth. He had hired Price's caddie, Jeff "Squeaky" Medlin, who helped guide the rookie around the course. It made a nice side note.
By the end of Friday, he was much more than a note, after a 67 gave him a one-shot lead.
"I'll remember this day for the rest of my life," he said that evening. Daly-mania was growing. Rapidly.
Ferriell: "It was unbelievable. That's all you heard people talking about. People had never seen anything like it."
By the end of Saturday's third round, after another 69 put him ahead three shots, he was a full-blown sensation.
That night, he went to the Colts-Seattle exhibition game at the Hoosier Dome and was introduced on the field at halftime. He later told Golf.com that when Colts owner Robert Irsay heard Daly was a former kicker, he toyed with the idea of having Daly kick in the game.
It didn't work out, but Indy was Daly-town by then.
Frandsen: "I do remember him starting the last round. He stood up on the first tee and he hit a driver, which he should never have hit and he hit a big sweeping hook. It was headed out of bounds and hit a tree and came back in bounds. When he hit that big drive off the first tee, I thought, 'This guy's an idiot.' I thought he was going to shoot 78 and lose."
No, he shot 71 and won by three strokes. Crooked Stick had midwifed the birth of a golf Cinderella story for the ages.
Frandsen: "He kind of took the city by storm over that weekend for a guy that, on Thursday, no one had ever heard of."
Daly is 50 now and has endured a sometimes stormy relationship with the game, though he would later win the British Open. People still like to see him play. But the game is full of big hitters now, given changes to equipment and the golf ball since 1991.
Frandsen: "Almost everybody on the Tour today hits the ball as long as John Daly did in 1991. The drives he was hitting at Crooked Stick would not be in the top 75 on the Tour today." 
But 1991 lingers in many ways. Daly returned to Crooked Stick that October for a corporate appearance. Ferriell came up with the idea of marketing some leftover PGA posters, to build up a scholarship fund for caddies, club employees and their children. But he'd need Daly to be willing to autograph them to pull it off.
Today, that fund has grown to $650,000, according to Tony Pancake, director of golf operations. There is a board in the clubhouse that carries the names of all those whose education has been helped. And it all started on that weekend in 1991.
Ferriell: "I can't say enough for John Daly, I'll put it to you that way."
There will be no entrant named John Daly in the BMW Championship in September. But he'll be here, always as the young unknown suddenly touched by magic, winning over a city in four days. That John Daly has never left Crooked Stick.•
__________
Lopresti is a lifelong resident of Richmond and a graduate of Ball State University. He was a columnist for USA Today and Gannett newspapers for 31 years; he covered 34 Final Fours, 30 Super Bowls, 32 World Series and 16 Olympics. His column appears weekly. He can be reached at mlopresti@ibj.com.
Please enable JavaScript to view this content.