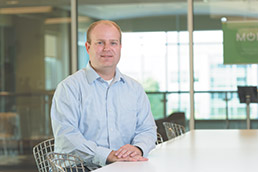 (IBJ photo/Eric Learned)
Mobi
Chief Technology Officer
Major company achievements during tenure: Sendelbach became Mobi's CTO in late 2014. In 2015, the company—which provides software services to help companies manage mobility—secured a $35 million minority investment and experienced 67 percent year-over-year growth in recurring revenue. That, Sendelbach said, "is due in no small part to highly configurable software that can fit the needs of demanding enterprises and its effects on Mobi's position in the market." That growth resulted in adding 110 employees, which in turn led to the construction of new office space. "We also globalized our software application, enabling new markets, which has been a longstanding struggle for our industry."

Recent tech problem solved: Implemented a complex reporting feature in Mobi's software from scratch in two days to enable the acquisition of a large new client.

Challenge faced or achievement that only tech people would understand: Globalization of an enterprise software application. "So many things are involved," Sendelbach said, "including, but not limited to, ensuring every single application string is in key form for proper internationalization, localization, enabling multi-currency reporting in a performant way, and robustly supporting international phone number and address formats." He added, "We also built a really cool integration with a software translation vendor to ensure quality with in-context translations while providing minimum disruption to the development process through an automation bot that interacts with GitHub pull requests."

First computer: A Compaq 450MHz. "More memorable than the computer itself was the first experience plugging into a fast internet connection. My mind was blown when I could download WinAmp in three seconds.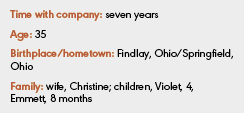 Education: bachelor's in computer science from the University of Notre Dame

The road to here: He started at Software Architects doing Java development. From there, he worked in software development at Liberty Mutual and local startup Humanizing Technologies. "When I came to Bluefish Wireless Management—spiritual predecessor to Mobi—I began to take on more leadership positions and provide vision and technical direction." When Mobi was founded, he worked in development, but grew into leadership there, too.

The management app: "I honestly never thought it was something I would do," Sendelbach said of management. "I wanted to make and create things—that's where I got personal fulfillment." But "as I got further along in my career, I started to develop more opinionated thoughts around the company's tech vision—not necessarily how one particular piece of software functionality should work, but the direction we should take the entire platform."

Go-to websites: Google, Medium, Tested, XKCD, Reddit

Favorite gadget: A tie between Amazon Echo and Raspberry Pi (with Sense HAT). "I'm a tinkerer by heart and I'm really curious about how cheap and accessible technology is becoming."

My job would be easier if … "I had a crystal ball."•
Check out more CTO honorees..