A developer is poised to tackle the remaining vacant commercial property in the heart of Carmel's Village of West Clay.

Custom-home builder David Klain recently purchased 4.5 acres in The Village Center Shoppes for an undisclosed amount from Brenwick Development Co.'s George Sweet and Tom Huston. Brenwick opened the new Urbanism community in 2000.

Klain and his wife, Sherri, live in the upscale neighborhood and have operated businesses from the commercial core for nine years. Klain said he's convinced a downtown atmosphere can thrive in the Village of West Clay, despite what other real estate experts have argued.

"I wouldn't take on this risk and exposure if I didn't think it was a valuable asset," Klain said. "I own two retail businesses, so I know what they can do."

Klain expects to add 61,000 square feet of commercial space and 50 residential units on the upper floors of proposed retail buildings.

Huston said he and Sweet have confidence in Klain because "he shares our passion and our vision."

But some are skeptical there's a market for the space, with one retail broker calling the plan "aggressive" and a yet-to-open restaurant owner cautious about how long he'll stay in business.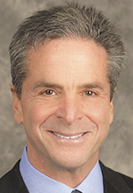 Perlstein
"The retail is rather inward-oriented," said Mark Perlstein, retail broker and first vice president for CBRE Group. "There's not a lot of traffic counts there."

For years, the neighborhood's designated "downtown"—which is tucked away off the area's major streets—has struggled to keep its buildings occupied.

Some of the turnover and vacancies can be attributed to legal issues, and Klain argues other factors like poor business models or limited offerings also played a part.

"People go out of business all the time," Klain said. "It's because they delivered the wrong product."

For example, he attributed the closure of Pizzology Craft Pizza & Pub at the end of last year to the lack of variety in the restaurant's menu.

"People want services they can use two or three days a week," Klain said.

He moved his home construction business, DB Klain Construction LLC, to the Village in 2007, and Sherri Klain opened her gift basket business, Basket Pizzazz Gifts & Candy, in 2009 in the same building on Glebe Street.

"Everybody at the time said we were crazy for opening a business out here," David Klain said.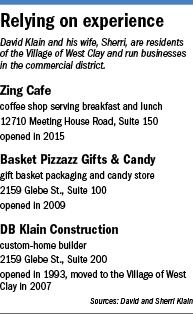 Sherri Klain said some of her business is conducted solely through online ordering—and admitted she needs that to survive—but she does see regular customers in the store.

"People are extremely supportive of what has been here," Sherri Klain said. "People want to see businesses succeed here."

About a year ago, the couple opened a coffee shop called Zing Cafe, serving breakfast and lunch. Again, skeptics told Klain it wouldn't work, but it's still operating.

And a new restaurant operated by the owners of Coalition in Carmel is expected to take the space vacated by Pizzology. The Lit Moose will offer "upscale bar food," including burgers, flatbreads, wings and salads, according to co-owner Scott Nahmias, who runs Coalition with his brothers Steve and Lenny.

Nahmias said the restaurant will have indoor seating for 70, including a bar, and outdoor seating will be offered during warm months. The Lit Moose should open by mid-September.

"It was kind of a leap of faith for us as well, because the history of that location isn't great," Nahmias said. "We have our eyes wide open. We're not blind to what happened in those spaces before."

Before Pizzology, Italian restaurant Pamfilio's occupied the space.
Wider net

Perlstein said any business in the Village of West Clay's retail core will have to lure customers from the surrounding two- to three-mile radius, which could continue to be difficult because of the inability to see the shops from roads used for commuting.

"Most of the businesses that have done well there are purely destination businesses," Perlstein said. "But the other businesses, they can't fully rely on the Village of West Clay."

The CVS Pharmacy on the corner of 131st Street and Towne Road, for example, has succeeded because it's near a well-traveled intersection, according to Perlstein.

CVS is "front and center," he said. "They have good visibility. They have good access. They have good parking."

Klain agreed that the retail businesses need to attract visitors from other neighborhoods, but he believes that's already happening—at least in part thanks to Danny Boy Beer Works, which opened in early 2015.

"If it's good, people will find it," Klain said about retail stores and restaurants.

He compared the neighborhood to downtown Zionsville, known for local shops and restaurants, but also not on a major roadway.

"The Village of West Clay is no longer a secret," Klain said. "They don't need to drive by it … . There are some great restaurants in Zionsville, but you don't have to drive by it to know about it."

Even with a history of turnover, Klain said, the area typically doesn't struggle to find tenants.

About 90 percent of the existing 103,000 square feet of commercial space already built in the commercial core is occupied, according to Klain.

On track

Huston said Brenwick always expected the retail portion to be the last piece built out, because retail follows rooftops. More than 1,500 homes, 225 senior-living units and 180 apartments exist in the neighborhood now.

"Considering the circumstances, retail development in the Village Center has weathered the storms rather well and is positioned to prosper in the future," Huston said.

Klain has been building homes in the community since 2002 and also owns the two commercial buildings that house his businesses.

He plans to sell half of his just-acquired vacant properties to investors and build out the other half himself. Similar to constructing custom homes, Klain has prepared sample building footprints that can be adjusted depending on the lot purchased.

"We're a one-stop shop," Klain said. "The process will be extremely simplified."

So far, he is off to a good start. Out of the 17 building pads he is marketing now, sales are pending on three.

All the new buildings have to be at least two stories, according to existing zoning regulations, but earlier this year, the city agreed to tweak the guidelines in the commercial core to allow for more first-floor retail with residential units above, rather than requiring office space on upper levels.

Klain said he expects the buildout to take three to four years, but construction on a building with small office suites could start within three months.

A variety of other businesses have been suggested for the proposed spaces, including an ice cream shop, barbershop or salon, pet supply store, orthodontist, wine bar, tutoring center, boutique or fitness apparel store.

"I would highly encourage people to come in here and give it a shot," Sherri Klain said. "I think it's a hidden treasure. When people know that we're here, they come back often."•