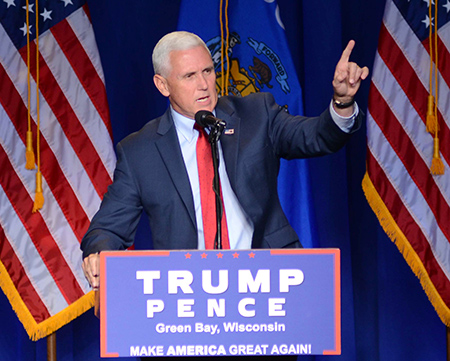 Gov. Mike Pence is the first to say in his new role as Republican presidential nominee Donald Trump's running mate that Hoosiers don't like to "toot our own horn too much."
But that hasn't stopped the one-term Republican governor, who abandoned his own re-election race to join Trump, from painting a rosy picture of Indiana's economy to would-be voters.
During an Aug. 8 campaign stop in Sioux City, Iowa, Pence told an audience member that he believed Trump chose him because of "what we've done in Indiana."
He's repeated many of the same assertions—including quoting Indiana's "A State That Works" slogan—in his short time out stumping for Trump.
But Indiana economists and finance experts have mixed reviews about how much of what Pence has touted on the campaign trail should be credited to him—and how much effect he's actually had on the state's economy.
"The truth doesn't fit on a bumper sticker," said Larry DeBoer, a Purdue University professor of agricultural economics and a longtime Statehouse observer. "I have listened to all these reports of Indiana's glowing success story and I'm thinking, 'We're doing OK.' The Indiana economy has pretty much just tracked the national economy."
Here are five claims about Indiana's economy from Pence campaign stops and how they stack up to his record.
1. Taxes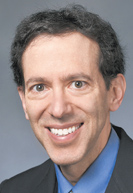 Orentlicher
"My first year in office, I signed the largest state tax cut in Indiana history. We've managed to cut taxes every single year that I've been governor."—Pence in Sioux City, Aug. 8
Pence fought hard for a major tax cut shortly after taking office in 2013—specifically, a 10 percent cut in the individual income tax rate.
But the Republican-controlled General Assembly wasn't quite so ready to jump on board. The Indiana House disregarded his request at first, largely because the state was already coming off a major tax cut under Pence's predecessor, Mitch Daniels.

Pence ended up getting half the tax cut he wanted—5 percent—which is being phased in over four years, hence his assertion that he has "cut taxes every single year."
The income tax rate was 3.4 percent in 2013, and will be 3.23 percent in 2017.
Pence also convinced lawmakers to repeal Indiana's inheritance tax (which was already undergoing a phase-out pushed by Daniels), and in 2014 signed a bill that reduced corporate income taxes 1.6 percentage points over seven years.
But there is some argument over whether Pence's individual income tax break should be considered the state's largest tax cut. In 2008, Daniels signed property tax caps into law, a move that saved property owners (and cost local governments) some $800 million in 2013.
DeBoer also cautioned politicians against overstating the impact of cutting taxes dramatically, saying they "are a second-tier cause of development."
"Once you've taken care of transportation infrastructure, and the quality and price of the labor force, the size of the market and the agglomeration economy, those are the things that really matter," DeBoer said. "After that, come taxes."
And Kyle Anderson, a professor of business economics at the Indiana University Kelley School of Business, said obsession with cutting taxes wasn't always best. "I think that we could use more investment in education and infrastructure right now."
2. Unemployment
"Today we have more Hoosiers going to work than ever before in the 200-year history of the great state of Indiana. That's what Republican leadership gets you." —Pence in Westfield, July 12
That more Hoosiers are working today than ever before is true. But there are also just more people in Indiana than ever before.
More than 3 million people are employed in Indiana, according to the Bureau of Labor Statistics.
"Is that something that you can take credit for, or is it something would have happened anyway?" DeBoer said. "My thinking is, it would have happened anyway."
He pointed out that payroll employment in Indiana has been growing a little slower than nationwide since 2013 and that Indiana's unemployment rate has closely tracked the national unemployment rate.
"Indiana is a little fish in an enormous global pond," DeBoer said. "The governor can screw it up more than the governor can help out. He didn't screw it up."
3. AAA credit rating
"We in Indiana have … the highest credit rating in the nation." —Pence at the Republican National Convention, July 21
Indiana has, indeed, achieved the top credit rating—AAA—from agencies Moody's, Standard & Poor's and Fitch Ratings, but it earned that distinction several years before Pence took office.
The state's credit rating is a measure of its likelihood of repaying its long-term debt. States with a lower rating are forced to pay higher interest rates on loaned cash.
"The lower your cost of borrowing, you can do more with your dollars," said David Orentlicher, a law professor at the Indiana University McKinney School of Law.
But a AAA rating is not exclusive to Indiana. A Pew Charitable Trusts compilation of state credit ratings found that 15 states, including Indiana, had AAA credit ratings as of May 2014.
4. Balanced budget, surpluses
"Different from our neighbors in Illinois, we have balanced budgets … ."—Pence in Westfield
"We still have one of the healthiest balance sheets in the country … and a record surplus and reserve in the state of Indiana." —Pence in Sioux City
Pence has long touted that Indiana has balanced its budget, but that doesn't make him stand out among Indiana governors.
DeBoer said Indiana officials have been balancing their budgets since 1851. While the state doesn't have an explicit balanced budget amendment in its constitution, he said there is a requirement that the state not be in debt on the last day of the fiscal year, which has always been interpreted as such.
"What Gov. Pence has done is a continuation of what Gov. Daniels did, and not much different than what [former governors] Kernan, O'Bannon, Bayh and Bowen did," said Paul Helmke, a former Republican mayor of Fort Wayne and a professor at Indiana University's School of Public and Environmental Affairs. ut the 2016 fiscal year with $2.24 billion in its reserve accounts.
Orentlicher said Indiana's budget surplus is mostly good. But Democrats have said the money could be used for needed investments. "I can accumulate money in a savings account," he asid. "But if I invest it in the stock market, I might be better in the long run."
5. Regulation
"From the time I became governor, we had a moratorium on all new regulations … to roll back red tape on small businesses." —Pence in Sioux City
Pence did, indeed, sign such a moratorium on his first day in office to "promote Hoosiers' freedom to engage in individual, family and business pursuits."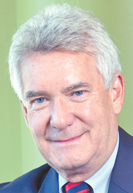 Helmke
But just a few months after that, about 30 new rules and regulations had been implemented because his order allowed agencies to follow through on rules they had already started crafting. However, Pence's budget director said at the time that notices of intent to file a new rule had dropped72 percent in the first half of 2013.
John Ketzenberger, president of the Indiana Fiscal Policy Institute, said Pence "took great pride" in the idea of squashing regulation and layers of government—but sometimes contradicted himself.
"It's a management question when you get down to it," Ketzenberger said.
For example, he said, Pence created a state agency, the Center for Education and Career Innovation, that critics said was essentially a shadow agency of the Department of Education because of his ongoing feud with Democratic Superintendent of Public Instruction Glenda Ritz.
Pence's legacy?
Several experts contacted by IBJ said Pence's biggest legacy when it comes to Indiana's economy is likely to be the dustup regarding the Religious Freedom Restoration Act, the 2015 legislation championed by Pence that critics said would allow discrimination against gay and lesbian people.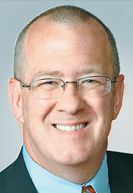 Hicks
The state's business community was in an uproar over the legislation. Officials at the nonpartisan Visit Indy confirmed that RFRA caused the city of Indianapolis to lose up to 12 conventions and $60 million in economic impact.
"When I think of Gov. Pence's term, the only thing that really jumps out to me is the brouhaha over RFRA," Helmke said. "We still have a black eye from that."
Ball State University economics professor Michael Hicks said, however, that he doesn't believe RFRA actually turned out to have a big impact on the economy—or at least there isn't enough data to really know. He called it a "temptest in a teapot" and pointed out that 2015 ended up being a gangbusters year for convention business in Indiana.
One project Pence hasn't been so quick to tout on the campaign trail is his health care expansion of the Health Indiana Plan 2.0, which uses federal Medicaid dollars available through the Affordable Care Act to provide health insurance to lower-income Hoosiers. That's probably because Medicaid expansion has been unpopular with some Republican governors and voters.
A recent study published in the JAMA Internal Medicine Journal showed that poor people in states that expanded coverage are going to the doctor more and "starting to see broad-based improvements that we would expect with better access."
"He wasn't right out of the gate with it, but he did do it," Orentlicher said. "Some of the research is showing that poor people are better off with Medicaid. This is something the governor had an impact on."
Hicks also said Pence's Regional Cities economic development program will stand the test of time. That program is an attempt to make Indiana a "destination for talent" by encouraging "strategic regional development plans" in seven regions of the state.
Three regions have received$126 million in matching funds to help them bring the projects to life.
"It's very pragmatic, very forward-looking, very bipartisan," Hicks said. "He should be getting some credit for that. Regional Cities is the most innovative state economic development policy in a quarter century or longer."•
Please enable JavaScript to view this content.