Craig Prater, former executive director of the Palm Springs International Film Festival and the Bangkok International Film Festival, has been named the new president of Heartland Film. He will begin on Aug. 15.
 
The Fillmore, Missouri, native takes on the position as the Indianapolis-based not-for-profit group prepares for the 25th Heartland Film festival, which runs Oct. 20-30. Frank Basile served as interim president during the search, which was sparked by the unexpected resignation of Stuart Lowry in December 2015.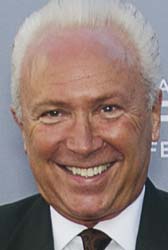 Craig Prater
"There's an incredible balance [of programming] at Heartland that sometimes you don't see at other festivals, including year-round programming, that really impressed me," said Prater, who wouldn't give his age but said he "won't see 60 again."
 
The festival's longevity was also an attraction. "It's easy to create a festival," Prater noted, "but that doesn't mean it's going to survive unless you have strong community support and good people behind it."
In addition to its signature 10-day festival, Heartland also presents films around the state under its Heartland Film Roadshow banner. It works with budding filmmakers through Heartland Film Institute workshops and seminars, and its Truly Moving Pictures Award designation honors theatrical films throughout the year that "promote positive change in audiences' lives through the transformative power of the art form."
 
A former event producer for cosmetic company Redken, Prater was brought into the Palm Springs Film Festival fold by singer Sonny Bono in order to help that festival bring tourism dollars to the community. While there, he co-founded the Palm Springs International Festival of Short Films and the Arthur Lyons Film Noir Festival.
 
He accepted an invitation from the Royal Thai government to become executive director of the Bangkok Film Festival, again with the purpose of attracting tourism. He left after nearly five years when the government was overthrown in a military coup.
 
Back in the U.S., he served as director/producer of the Latino Film Festivals in Florida and California. Most recently, Prater directed the San Diego Jewish Film Festival and, briefly, took on the role of vice president of strategic partnerships for the San Diego Film Festival.
 
While part of the appeal of festivals is the chance to hobnob with celebrities, Prater noted that "you want to be true to the core films you bring in. Heartland has a mission statement that's rather awesome. It talks about inspiring filmmakers and audiences. It's a core that we need to keep referring back to. It tells us exactly what we need to do to stay focused."
 
Heartland Film Board Chair Gary D. Cohen said the board is excited "to have someone of Craig's caliber wanting to come back to the Midwest and take Heartland to the next level," he said. "He recognizes our mission and knows what Heartland is about, and his reputation in the festival world is just phenomenal. The next 25 years is starting now."
 
Please enable JavaScript to view this content.