A Colorado-based not-for-profit organization that plants gardens at schools is expanding its footprint to Indianapolis in a big way, aiming to cultivate at least 100 patches of land.
Boulder-based The Kitchen Community was co-founded in 2011 by Kimbal Musk, younger brother to high-tech entrepreneur Elon Musk.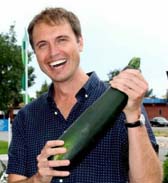 Kimbal Musk
Kimbal Musk, 43, is also on the boards of directors at Tesla Motors and Space Exploration Technologies Corp., commonly known as SpaceX. Elon Musk serves as CEO of both of these companies.
But The Kitchen Community is decidedly low-tech and earthbound. It works with K-12 schools to plant on-site gardens where students can learn about gardening, nutrition and academic subjects.
To date, the organization has built 300 gardens in four cities: Denver, Los Angeles, Chicago and Memphis. Now it's entering Indianapolis, as well as Pittsburgh.
In each of the cities it enters, The Kitchen Community aims to plant at least 100 gardens.
"Our model is, we join communities," Kimbal Musk told IBJ.
The Kitchen Community's total cost to operate in a city—including planting and supplies for 100 gardens, staff salaries and garden maintenance—is $5 million to $6 million.
In Indianapolis, the Herbert Simon Family Foundation is the lead donor. The Kitchen Community did not disclose the amount of the foundation's gift, but The Kitchen Community is still doing fundraising to reach its target in Indianapolis.
IBJ was unable to reach the Simon Family Foundation on Tuesday morning for comment.
Musk said The Kitchen Community has been working for the past year or so to lay the groundwork to launch in Indianapolis. The goal is to connect with areas that are receptive to The Kitchen Community's vision.
"Indianapolis has been the most warm and inviting community we've ever worked with," Musk said.
To support local efforts, The Kitchen Community hires a handful of local employees to work with schools. The organization is in the process of hiring Indianapolis employees now.
The Kitchen Community also offers suggested lesson plans, although schools are not required to follow them.
Schools can decide what they want to plant in their gardens: fruits, vegetables, herbs, flowers or some combination of each. They also can decide what to do with their garden produce: serve it in the cafeteria, sell it or give it to students.
"The school can really leverage it [the garden] any way that they feel like they want to," said Courtney Walsh, The Kitchen Community's communications director.
According to a study from 2015, 89 percent of schools with learning gardens use them to teach science. Schools also report using the gardens to teach nutrition (61 percent); math (50 percent); reading (39 percent); and language arts (29 percent).
Each garden occupies about 1,500 square feet of outdoor space at a school.
All Indianapolis public or private K-12 schools are eligible for Learning Gardens, but a school must apply. Preference is given to schools that have a high percentage of students eligible for free or reduced-price school lunches.
The organization is now accepting applications from Indianapolis Public Schools, and starting this spring it will open up applications to schools in surrounding township districts.
Schools can learn more and apply for the program at www.thekitchencommunity.org.
The Kitchen Community's other co-founder is Hugo Matheson. Musk and Matheson, along with Jen Lewin, are also the co-founders of The Kitchen restaurants, which focus on local cuisine and eco-friendly operations. The Kitchen restaurants operate in Colorado and Chicago, with three locations planned in Memphis.
Musk said the restaurants help support Learning Gardens through fundraising activities. The restaurants and school gardens also have a common goal of raising awareness and demand for local agriculture.
"Long term, our goal is absolutely to do restaurants in Indianapolis," Musk said.
"We want to create a consistent demand for real food grown in and around the Indianapolis area."
There's no set timetable yet for when The Kitchen restaurants might come to town, he said.
 
Please enable JavaScript to view this content.