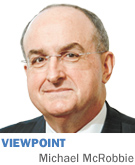 Just a few days ago, I had the enormous privilege of announcing that, for the second consecutive year, Indiana University had achieved record totals in external funding for research and other activities and for private philanthropy.
IU secured nearly $1 billion in external and private funding in fiscal year 2016, the highest total of external grant funding obtained by any public research university in the state during the last fiscal year and the highest annual total in IU's history. That includes more than $614 million in grants for research and other academic activity and more than $524 million in private and philanthropic contributions.
Additionally, the IU Research and Technology Corp. had a record number of U.S. patents and a dramatic increase in licensing agreements.
This record growth reflects IU's role as a major engine for economic development and innovation in Indiana and around the world. It's also testament to a fundamental truth: Education and innovation are the central elements to the success of a given region.
Now more than ever before, university research and creative activities are associated with increased growth and incomes in their surrounding regions through students who have received their education in a research-rich environment, faculty who are at the forefront of new teaching techniques and research methodologies, new enterprises and new ideas brought into existing businesses, and the pervasive culture of creativity and innovation they help to foster.
Here at IU, every research dollar that our faculty, staff and students attract delivers new resources to our state that serve to expand knowledge, drive innovation, create new industries and jobs, and support a high standard of living among all Hoosiers. Indeed, as recent IU success stories indicate, the benefits of these resources on the economic vitality, health and well-being of our state can often be profound.
Earlier this year, the IURTC's Innovate Indiana Fund, which offers early-stage capital to companies with an IU connection, was among more than a half-dozen investors to participate in an $18 million funding round for PrecisionHawk Inc., a rapidly expanding maker of unmanned aerial vehicles and software that collects and analyzes terrestrial data for commercial use.
PrecisionHawk currently has more than 100 employees, with at least 10 now based in Terre Haute. In June, it was recognized as one of the world's 30 most promising Technology Pioneers for 2016 by the World Economic Forum for its contributions to increasing efficiency and accessibility around agriculture and food sustainability. PrecisionHawk's team will present at the World Economic Forum meetings in Davos, Switzerland, next February.
Since 1997, the IURTC's work with university clients has resulted in more than 2,700 inventions and nearly 4,000 global patent applications. Those discoveries have generated more than $135 million in licensing and royalty income, more than $112 million of which went directly to IU departments, laboratories and inventors.
This type of activity suggests how the state's public universities, including IU, are evolving and expanding Indiana's research enterprise while we remain focused on our long-standing mission of providing a quality education to our best and brightest.
Ours is an unwavering commitment to creating and advancing the academic, economic, social, environmental and cultural fabric of the Hoosier state. With the generous support of our alumni and friends, we will continue to do just that, through our major contributions to economic development and our continued investment in building a culture of entrepreneurship and innovation that permeates our great state.•
__________
McRobbie is president of Indiana University.
Please enable JavaScript to view this content.