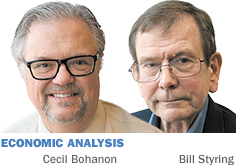 Berry College is near Rome, Georgia. In March 1998, the folks at Berry had a bright idea: Let's buy 20 new bicycles for general use by students. Place them around campus on a first-come-first-served basis. No charge for individual use and no procedure to check bikes out and in. Bikes were to be a common resource owned by everyone—and thus by no one. Pure bicycle socialism.
Two months later—according to an article at the Foundation for Economic Education—four of the bikes had disappeared and 11 were broken and unusable. It seems many of the students were "riding the bikes at absurd speeds, doing tricks, and just abusing the bicycles … ."
Fast forward to a recent IBJ article highlighting the success of an Indianapolis bike-sharing program that has 27 stations and 251 bikes, and provides thousands of bike rides per week. There was no mention of any of the Indy bikes being missing or abused. Since we haven't noticed human nature changing much in the last 18 years, why the different outcomes?
The Indy system gives the rider an incentive to treat the bike as his own property. The bikes are locked in a kiosk station and released only when a paying customer has entered his/her credit card. The bike user contractually agrees to return the bike in a timely manner to one of the system's kiosks located throughout Indianapolis. The fine print of the user agreement specifies that, if the bike is not returned within 24 hours, "it will be considered stolen and rider will be charged $1,500." There is also a long section whereby the user accepts financial responsibility for any damage to the bicycle. The user's credit card is on file.
GPS technology allows tracking each bike and its operating condition at low cost. Yes, new technology allows for this example of the "sharing economy." But another way of thinking about it is that new technology allowed a market to emerge.
Markets give users and providers incentives to do the right thing. Why return the bike if there is no penalty for leaving it in the grass? Very different if the user incurs a $1,500 fine. Who will pump up the tires if there is no incentive to do so? Although Indiana Pacers Bikeshare is a not-for-profit entity, it has a strong incentive to keep bikes in good shape to enhance revenue. 
Markets make human cooperation both possible and sustainable.•
__________
Bohanon is a professor of economics at Ball State University. Styring is an economist and independent researcher. Both also blog at INforefront.com. Send comments to ibjedit@ibj.com. 
 
Please enable JavaScript to view this content.